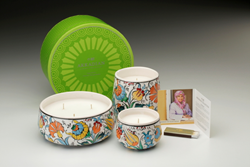 "I couldn't be prouder of the women who have produced beautiful, high-end candles despite the violence and uncertainty that surround them," said Zedan Mohamad, the Iraq Program Director.
Cambridge, Massachusetts (PRWEB) April 19, 2016
Prosperity Catalyst, a Cambridge-based nonprofit, today launched online sales of its Akkadian Collection, which is entirely produced through its Iraqi-based social enterprise consisting of women entrepreneurs in Baghdad. The collection includes three product lines and is ready just in time for Mother's Day. The collection is sophisticated and modern but rooted in tradition. Several candles are produced in hand-hammered copper vessels bringing a modern aesthetic to a classic Mesopotamian craft, and others are inspired by rippled sand patterns of the desert landscape. All are now available online at http://www.akkadiancollection.com.
At a time when few other nonprofits are willing to engage with Iraqi civilians, this young start-up has successfully recruited and trained women for their local talent and begun exporting handmade products for sale online. The organization has overcome significant obstacles given its demographics and unique location, including increased security risks due to ISIS and the challenges of attempting global export from a nascent economic zone.
Zedan Mohamad, the Iraq Program Director, has seen what it takes to launch a business in such an unstable market. "I couldn't be prouder of the women who have produced beautiful, high-end candles despite the violence and uncertainty that surround them. Because of ISIS, we have had to adapt at every turn, but the women continue to show resilience and determination in making this business work," Mohamad said.
Prosperity Catalyst has been training Iraqi wars widows since 2013 and recently adapted its candle enterprise model to allow for home-based product creation with centralized business administration taking place in an export hub. The hub provides access to the supply chain products and allows for greater flexibility for women to safely participate in the workforce.
To date, the organization has worked with 56 women to produce more than 1400 Akkadian Collection candles. Linda Strohmeyer, the chairman of the board of Prosperity Catalyst is eager to celebrate this milestone. "We could not be more pleased with the launch of the Akkadian Collection produced by talented women artisans. We're thrilled to see major players engage including National Geographic who placed a large order for ceramic candles to be shown at their headquarters in Washington, D.C. The business is off to a great start despite so many challenges faced every day in the region."
For more information about Prosperity Catalyst please visit: http://www.prosperitycatalyst.org.
Prosperity Catalyst's mission is to provide tools, training and community for women in distressed regions of the world to thrive as skilled entrepreneurs and leaders. Based in Cambridge, the organization incubates and launches women-led businesses, creating opportunities for women to achieve economic empowerment. Prosperity Catalyst currently focuses on developing businesses in Iraq and Haiti.
# # #