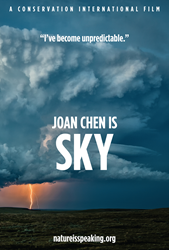 Arlington, Va. (PRWEB) April 18, 2016
In the lead up to Earth Day, Conservation International (CI) debuts a new short film "Sky," voiced by Joan Chen, the newest addition to its award-winning short film series "Nature Is Speaking." "Sky" debuts as country leaders from around the world come together to sign the Paris climate agreement negotiated this past December.
"We are pushing the Earth's climate to its limits," Chen said. "Climate change is drastically altering our planet, threatening not only the nature people rely on, but also people themselves."
Climate projections predict an increase in extreme events, changes in precipitation and seasons, more frequent and intense heat waves and droughts, melting glaciers, sea-level rise and ocean acidification. These changes threaten economies, global security, livelihoods and lives.
Consider:

2016 is projected to the be the warmest year on record — in 2015 the average global temperature was 0.9°C above pre-industrial levels;
If emissions continue unabated, Antarctic ice melt could raise sea levels more than three feet by the end of the century;
Extreme storms, like the cyclone that recently hit Fiji, have become more frequent.
"As nations meet to sign the U.N. Paris agreement this week, it's clearer than ever that the time to take action on climate change is now — for the sake of the sky and for the sake of humankind," said Shyla Raghav, director of climate policy at CI.
"Sky" expresses the sentiments of our atmosphere as it takes in more and more carbon emissions. Pulling this planet-warming carbon out of the atmosphere and reducing emissions can help mitigate climate change. Recent data indicate that protecting forests can provide up to 30% of the carbon emissions reductions and storage to avert the worst effects of climate change. Furthermore, the largely unheralded potential of "blue carbon" — the carbon that is sequestered in coastal ecosystems such as mangroves — could provide even more. These solutions also provide many benefits to communities including protecting coastlines as well as food and freshwater supplies.
CI launched the "Nature Is Speaking" campaign in September 2014. The series includes films narrated by nature in the voices of the biggest names in Hollywood including Penélope Cruz, Harrison Ford, Liam Neeson, Lupita Nyong'o, Edward Norton, Lee Pace, Robert Redford, Julia Roberts, Ian Somerhalder, Kevin Spacey and Reese Witherspoon. The films have been viewed more than 49 million times across 40 countries in 10 languages, garnering more than 2.3 billion total impressions.
"Sky" is available to view and embed at natureisspeaking.org.
The "Nature Is Speaking" newsroom contains additional content and contacts for media at http://www.natureisspeaking.org/newsroom.
Images for media use*: https://ci.tandemvault.com/lightboxes/DB3jvwLAz?t=4lWdcM2hZ
More information on CI's climate resilience work is available here.
About the Nature Is Speaking campaign
Conservation International developed the Nature Is Speaking video series with MAL\FOR GOOD under the creative direction of Lee Clow. The videos have garnered more than 2.2 billion impressions and more than 48 million video views from exposure in more than 33 countries and have raised millions of dollars for conservation. "The Ocean," voiced by Harrison Ford, earned a coveted Cannes Gold Lion award in 2014.
About Conservation International
Conservation International (CI) uses an innovative blend of science, policy and partnerships to protect the nature people rely on for food, fresh water, and livelihoods. Founded in 1987, CI works in more than 30 countries on six continents to ensure a healthy, prosperous planet that supports us all. Learn more about CI and follow our work on Facebook, Twitter and Instagram.
*By downloading these images you agree to the following licensing terms and conditions: CI grants to you, and your employer if you are acting on behalf of your employer, a royalty-free license to download images for one-time editorial use in coverage of CI. The downloaded assets may not be used for commercial, advertising or other revenue generating purposes without express written permission of CI. Credit information is provided in asset metadata under copyright line.