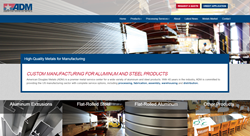 We are very excited about creating a more dynamic digital space for our customers.
Buffalo, New York (PRWEB) April 19, 2016
American Douglas Metals (ADM), a leader in metal manufacturing, fabrication, processing and distribution, announces the launch of their new website (http://americandouglasmetals.com), which includes a new "Metals Market" shopping feature. The new Metals Market allows customers to view and purchase from an extensive inventory of available surplus metals and exclusive products including aluminum coils, steel sheets and more.
With solutions for a wide variety of commercial and industrial applications, the updated website provides an easy-to-use navigation and modern design to present the detailed information needed to understand each of ADM's products and services. Additionally, the update now gives customers, new and old, the opportunity to purchase precise surplus and aluminum steel products directly from the website.
"We are very excited about creating a more dynamic digital space for our customers," says Jeff Raimonde, Vice President of Marketing at ADM. "The new metals market now creates a simple purchasing opportunity, providing the convenience of a quick and accessible ordering process."
ADM has 40 years of experience delivering top quality metal products and services such as flat-rolled aluminum, flat-rolled steel and custom aluminum extrusions from their facilities in Buffalo, New York, Atlanta, Georgia and Orlando, Florida. As an all-in-one service provider and trusted source for meeting diverse metal needs, the new Metals Market now gives ADM the opportunity to sell and deliver products to a larger geographic region.
To visit the newly launched website, learn more about what ADM has to offer and to explore the Metals Market, visit http://americandouglasmetals.com.
---
About American Douglas Metals
American Douglas Metals (ADM) is a leader in metal distribution, processing and fabrication for commercial and industrial applications with three locations throughout the United States — Orlando, FL, Buffalo, NY, and Atlanta, GA. As a premier manufacturer and processor of aluminum and steel, ADM offers more than 35 years of experience in the metals industry, playing a vital role in the processing and supply of metal products for top industries in the U.S.
To learn more about American Douglas Metals visit http://www.AmericanDouglasMetals.com.
---
MEDIA CONTACT
Jeff Raimonde
American Douglas Metals
jraimonde(at)americandouglasmetals(dot)com
407.855.6590