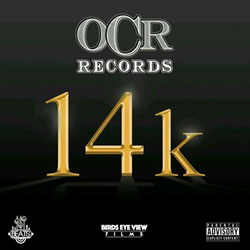 Only Cash Rules that's the only rule!
Atlanta, Georgia (PRWEB) April 20, 2016
Only Cash Rules Records, founded in 2014, is an independent label started by Slay Kuban and Point Blank. Point Blank, born KaVoris Bivins, is from the west side of Atlanta. His neighborhood is known as Da Bluff. Slay Kuban aka Promethazine Papi hails from Youngstown, Ohio which is known for recent mob activity and being the former murder capital of America. Slay Kuban and Point Blank O.C.R. sound has reached the music industry through many avenues. They recently released an EP entitled 14k on April 14th 2016 and a music video titled "I Have A Dream." A tribute to black history month and the All Lives Matter movement. Be on the lookout for their album Everything Dope which drops on July 4th 2016.
Keylin dawain Shaw
June 4th, 1991
Youngstown, Ohio united States of America
Label: only cash rules records
Nicknames: Promethazine Papi, Space Cadet Slay, Scarface.
Slay Kuban also known as Promethazine Papi, is a rapper, singer, song writer and independent artist that has his way with music in the studio. He was born on June 4th, 1991 in Youngstown Ohio, but later moved to Florida with his mother and siblings. His passion for music came at the age of 15 when his older brother Keith A. Shaw who was a street lyricist passed away at the age of 17. Slay vowed to make his brother proud by becoming a rap super star and business mogul. In 2014 he met the Artist Point Blank from Atlanta Georgia and they formed the only cash rules. In 2015 slay Kuban released an onslaught of singles like "Hustle With Finesse " and "Madonna" which put the O.C.R artist on to the next level in the rap game. In 2016 the space cadet released a music video for his single "I Have A Dream" feat Point Blank and J 'AL. April 13, 2016 only cash rules records released their collaboration EP titled 14K. Slay Kuban makes an appearance in the XXL MAGAZINE 2016 freshman class issue. His influences are Tupac, Lil Wayne and Future.
Hailing from Da Bluff in northwest Atlanta, Point Blank, delivers east-coast lyrics mixed with a down south lingo. Point Blank has always had a passion for music and begin writing rhymes at the young age of 13. He also spits without the use of profanity in his lyrics. With regards to the older community, he does this as a tribute to his grandmother that's always love the rhythm of hip hop but can't get pass the heavy vulgar language. In 2014, he linked up with Slay Kuban and they formed Only Cash Rules Records. The Only Cash Rules Records co-owner and artist has been perfecting his craft and is sure to be ready to claim a stake in the urban music industry.