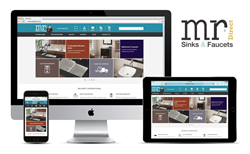 ...the general appearance of the site will be very simple and clean.
Toledo, Ohio (PRWEB) April 20, 2016
The MR Direct website, http://www.mrdirectint.com, is undergoing a facelift. The company is announcing today that its renovated site will be going "live" very soon. Because its broad array of sinks and faucets is ever-expanding, MR Direct feared that its website could soon get bogged down with too many products and too much information. Navigation through the growing listings could become cumbersome. To avoid frustrating, or even losing, customers because a visit has become tedious, MR Direct decided to refresh the site. They are confident that the upgrade in design and navigation techniques will make a sink or faucet shopping experience both comfortable and informative.
By incorporating the use of additional white space, the general appearance of the site will be very simple and clean. Clutter will be hard to find. This spacious design will foster a relaxed mood with points of interest clearly delineated. MR Direct features a full line of faucets and eight lines of sinks. Many subset categories exist for sinks; and further, each sink has numerous specified qualities. The new MR Direct site will make cruising through these choices enjoyable.
Each visitor has a different priority in mind when a search is begun for an MR Direct product. Some are concerned about it fitting a certain size of cabinet; others want to see the best-sellers. Still others may need to search for the lowest-price or highest-rated; and by color, material, or finish. All these options and more will become available.
Product evaluation will be made easier with the addition of many more lifestyle images. New, simple graphics will make information instantly understandable. New visuals showing the difference between the gauges of stainless steel thicknesses is one key example. There will even be a shipping calculator which will provide an ordering timeframe to meet any delivery date desired.
Behind the scenes, the processing of orders will be streamlined to speed up the purchasing experience. On-screen, the procedure will be even more straight-forward with all required billing information clearly requested in an uncomplicated fashion. With just a few obvious clicks, an order will be on its way.
For iPad or Android users, the website will also be seeing a mobile upgrade.