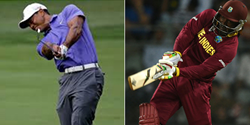 It's one of the last frontiers in medicine," says Gayle's doctor, orthopedic spine surgeon and Professor Dr. Kingsley R. Chin.
Boston, MA (PRWEB) April 27, 2016
Today the LESS Institute announced that international cricket star Chris Gayle and the West Indies Team's victory at the most prestigious international cricket tournament, the ICC World Twenty20 Final, on April 3, 2016, comes just seven months after Gayle received back surgery at the LESS Institute.
On August 18, 2015, Chris Gayle (36) underwent back surgery for a compressed nerve from a herniated disc. Before surgery, Gayle was experiencing constant numbness in his feet and pain while walking. He was able to sit up and be discharged within one hour after surgery. "I only have some residual numbness in my big toe," commented Gayle the next day when his surgeon, Dr. Chin, visited him in his hotel room to check on his recovery.
Gayle was back to training barely one month later. He returned to competitive play three months later. In March 2016, he broke an international record to become the player to hit the most sixes in winning the ICC Twenty20 Internationals. Deciding to have back surgery presented potential career-changing implications. "I suffered for over a year and a half before I had to take the time to have surgery," said Gayle.
"Before surgery, Chris was barely able to bend at his waist because of pain, and was experiencing constant numbness in his feet. By the time he had surgery it had become too painful for him to raise his legs or even walk. It's admirable to think he played with pain for such a long time." says Dr. Chin. "The delay in getting treated could have created permanent nerve damage and made his prognosis for complete recovery and return to competitive play doubtful. I knew going into surgery that I had to remove the herniated disc while preserving normal tissues and minimizing contact with the nerve to avoid creating more damage to a nerve that was already inflamed from chronic compression."
When asked if this was the same type of injury Tiger Woods experienced, Dr. Chin continues, "This was a similar herniated disc injury and is common for golfers, cricket players, football players, and weightlifters, but can be sustained by any athlete performing at a high level, because of the importance of the spine in all modes of activities. Tiger Woods unfortunately has now undergone three surgeries on his back and is not currently competing; whereas, Gayle is performing at record-breaking levels. It's not my place to comment on how Tiger Woods surgery was done, but at the Less Institute we expect our patients to recover within days. Doing successful outpatient surgeries is our niche. We have published many of the papers and developed many of the newest technologies with AxioMed and SpineFrontier and promoted stronger research through the LES Society to have better and better outcomes."
Dr. Chin addresses the little-talked-of disparity of unequal results in spine surgery: "It's one of the last frontiers in medicine. Who your doctor is, and what technique and technology he or she chooses, can have a profound effect on your outcome. Nonsurgical methods take time to get results and can worsen certain injuries."
Chin points to a startling lack of reliable, reproducible treatment for spine problems, and to the fact patients are often unaware of the best treatment and surgeons. Gayle stumbled upon Dr. Chin when Dr. Answorth Allen, an orthopedic surgeon at the Hospital for Special Surgery in New York City and team physician for the New York Knicks, reviewed his case and referred him to the Less Institute in Florida. Dr. Allen had been referred Gayle from Dr. Mansingh, an orthopedic sports surgeon in Jamaica and team physician for the West Indies Cricket Team. Gayle is Jamaican and this happy coincidence led him to Dr. Chin (also Jamaican) -who admits that it is difficult for patients to do their own research into their treatment amidst the Internet's hyperbolic marketing where everyone claims to be the best.
About LESS Institute
The Less Exposure Surgery Specialists (LESS) Institute is an academic center of excellence which provides outpatient treatment for spine and orthopedics. The LESS Institute's mission is to tailor treatment to each patient, to pinpoint the problem, fix it and let the patient go home the same day to recover quickly. It was founded by Harvard-trained, orthopedic spine surgeon and professor, Kingsley R. Chin MD, based on a new philosophy of Less Exposure Surgery utilizing the least invasive techniques and technologies to achieve the quickest and best outcomes.