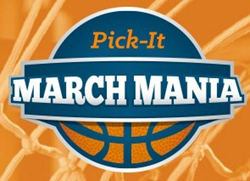 "Offering this each year creates a friendly rivalry between members as they compete and watch who wins during the tournament action," states Marcie Boerner, Office Manager at WCCTA
Gowrie, Iowa (PRWEB) April 19, 2016
Webster-Calhoun Cooperative Telephone Association is pleased to announce the winners of the Pick-It March Mania college basketball contest. Out of over 196 participants in our 16 communities, first place went to Nan Thede of Badger, Iowa. Nan earned the most points in the contest and was awarded a $200 bill credit. Will Fevold of Gowrie came in second place and received $100 bill credit, and Jenny Marshall of Paton finished in third and won a $50 bill credit.
Contest participants were invited to pick who they predicted to win the NCAA men's college basketball championship tournament games and earned points for each game they picked correctly. The contest was conducted online and sponsored by Webster-Calhoun Cooperative Telephone Association (WCCTA). Community members can visit WCCTA at 1106 Beek Street in Gowrie, Monday-Friday during business hours.
"Offering this each year creates a friendly rivalry between members as they compete and watch who wins during the tournament action," states Marcie Boerner, Office Manager at WCCTA "Participants can see where they rank against their friends and neighbors and see others completed brackets."
The March Mania contest ended April 4th after the Villanova Wildcats beat the North Carolina Tarheels to win the championship game.
Webster-Calhoun Cooperative Telephone Association is located at 1106 Beek Street, Gowrie, IA 50543. It has a Fiber driven network and provides landline telephone, Internet and digital television service to the Iowa communities of Gowrie, Pilot Mound, Vincent, Thor, Churdan, Knierim, Somers, Barnum, Duncombe, Farnhamville, Badger, Clare, Moorland, Boxholm, Lanyon and Paton. Additional information is available by calling 515-352-3151 or visiting http://www.wccta.net.