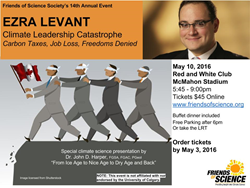 "Signing the Paris Climate Agreement will put Canada's future at risk. We urge the Canadian government not to sign."
Calgary, Alberta, Canada (PRWEB) April 19, 2016
Friends of Science Society is asking the Canadian government to refuse to sign the Paris Climate Change Agreement, slated for Earth Day, April 22, 2016, objecting to a statement by UN secretary-general Ban Ki-Moon that said "…this climate change issue should not be a subject of political debate…" as reported in the Wall Street Journal April 12, 2016. Friends of Science say it should be the subject of both political and scientific debate since undue influences have skewed markets and scientific messages, citing their new report "Undue Influence – Markets Skewed."
"Undue Influence – Markets Skewed" indicates that vast sums of money from billionaire philanthropies are demonizing hydrocarbon use as reported by the July 30, 2014, US Senate Minority Report entitled "The Chain of Environmental Command: How a Club of Billionaires and their Foundations Control the Environmental Movement and Obama's EPA."
Friends of Science Society say climate catastrophe claims driving radical climate policies are not supported by the evidence and question why Canadian politicians appear to offer partisan support to the recent joining of forces by three anti-oil Canadian ENGOs, as reported by The Rebel Media, April 14, 2016.
"At Paris, Canada's Minister of Environment and Climate Change Minister called for a 1.5 degree Celsius target, claiming that the Marshall Islands were sinking and thus climate change action was urgent," says Michelle Stirling, Communications Manager for Friends of Science. "In fact, it is reported that such islands may grow with sea level rise," Referring to the Jun 2, 2015 edition of New Scientists.
In peer-reviewed research in Global Policy of Nov. 9, 2015, Bjorn Lomborg's assessment of the Paris Agreement targets showed that even if all countries met their Intended Nationally Determined Contributions, the outcome would only be a fraction of a degree (0.17 degrees Celsius) potential reduction in global warming by 2100.
Attempting to reach climate change targets for Canada would destroy the economy, according to a report by energy economist and former public servant Robert Lyman. This was also the prediction of Ezra Levant in 2002 in his book "Fight Kyoto." Levant will be headline speaker at Friends of Science 14th Annual Event, May 10, 2016 a the Red and White Club in Calgary.
"Signing the Paris Climate Agreement will put Canada's future at risk," says Stirling. "We urge the Canadian government not to sign."
Friends of Science holds the view that the sun is the main direct and indirect driver of climate change, not you and not CO2.
About
Friends of Science has spent a decade reviewing a broad spectrum of literature on climate change and have concluded the sun is the main driver of climate change, not carbon dioxide (CO2). Friends of Science is made up of a growing group of earth, atmospheric and solar scientists, engineers, and citizens.
Friends of Science Society
P.O. Box 23167, Mission P.O.
Calgary, Alberta
Canada T2S 3B1
Toll-free Telephone: 1-888-789-9597
Web: friendsofscience.org
E-mail: contact(at)friendsofscience(dot)org