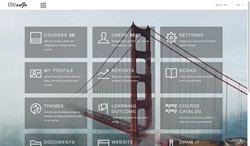 EDUonGo is a great Moodle alternative.
Bellevue, WA (PRWEB) April 19, 2016
EDUonGo, a cloud-based learning platform that hosts online academies, has released its newest selection of course catalog and dashboard themes. The rollout marks the company's latest move to present their platform as an alternative to Moodle and other traditional learning management systems (LMS) used to build and manage online courses.
"EDUonGo is a great Moodle alternative," says Ridvan Aliu, CEO of EDUonGo. "Moodle developers switch to EDUonGo to save themselves from the headache of hosting the platform. We also grant them access to free round-the-clock IT support."
For clients like Shift Workplace—a provider of professional training courses that helps promote workplace efficiency and productivity—the learning platform helps seamlessly migrate existing courses, saving Moodle developers time and money when changing and managing their courses.
Using EDUonGo, clients can build their own templates from scratch through rich application program interface (API). They can also implement ready-to-go templates from this page, which makes it easy to integrate EDUonGo into their existing websites. To implement a theme or to create your own, email info@eduongo.com.
About EDUonGo
EDUonGo is a cloud-based learning platform that empowers companies to create professional and corporate training courses. Companies save time and money by using EDUonGo as their custom eLearning solution. The platform's flexibility and development support makes it a great alternative to traditional LMSs like Moodle. For more information, visit http://www.EDUonGo.com.