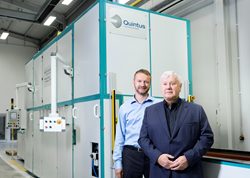 "The industry has a never-ending requirement for shorter and shorter lead times in the car model development process.--Marek Hoffmann
Västerås, Sweden (PRWEB) April 19, 2016
Kovovýroba Hoffmann, a privately owned Czech supplier of automotive sheet metal prototyping, has expanded capacity with a modern high-pressure fluid cell press from Sweden's Quintus Technologies. Acquisition of the Flexform press is driven by the company's aggressive growth strategy, under the leadership of two generations of the Hoffmann family.
"The industry has a never-ending requirement for shorter and shorter lead times in the car model development process," comments Marek Hoffmann, son of company founder Lubomír Hoffmann, who is still an active owner in the business. "The lead time for formed parts used to be months, but now parts are required in weeks, putting a very different demand on capacity and technologies. The high-pressure Flexform technology is ideal in the prototyping phase, since it allow us to work with low-cost forming dies and minimizes time spent in the milling process."
Adds the senior Mr. Hoffmann, "The technology is not new to us, but we are thrilled to gain access to the high-pressure benefits the Quintus press delivers. We are also keen to work together with Quintus Technologies. The expertise of their design team is invaluable, and their experience will help us in many areas, for example, in better connecting forming simulation to the Flexform technology."
The new Flexform press, which provides a press force of 17,000 tons over a forming area of 700 x 1800 mm (27.5 x 72 inches), was delivered from Sweden and installed at the Hoffmann plant in Ostrožská Nová Ves in the Czech Republic in March 2016.
"The installation of the equipment at Kovovýroba Hoffmann is equally important to us," states Jan Söderström, CEO of Quintus Technologies. "The Hoffmann family possesses a strong reputation for its sheet metal forming know-how. Similarly, the Czech Republic is known throughout the European automotive industry for being well positioned geographically, technically, and cost-wise, so we highly value this order.
"In addition, building and maintaining long-term relationships is of the highest importance in our daily business, and we warmly welcome Hoffmann into the Quintus customer family," Söderström concludes.
Read more about Quintus Technologies at http://www.quintustechnologies.com
About Quintus Technologies
Quintus Technologies specializes in the design, manufacture, installation, and support of high pressure systems for sheet metal forming and densification of advanced materials and critical industrial components. Headquartered in Västerås, Sweden, and represented in 35 countries worldwide, the company is the world leader in high pressure technology and has delivered more than 1,800 systems to customers across the globe within industries such as aerospace, automotive, energy, and medical implants.
About Kovovýroba Hoffmann, s.r.o.
Based in Ostrožská Nová Ves, Czech Republic, Kovovýroba Hoffmann serves the automotive industry as a specialist in the manufacture of body components, subassemblies, and complete bodies, including the manufacture of form tools for body panel pressing. The main focus of the all-Czech, family-operated company is prototype and low-volume manufacturing. The press shop, equipped with state-of-the-art machinery, is capable of manufacturing press tools and forming sheet metal components up to the size of an entire passenger car side panel. Hoffmann also provides precise assembly of individual sheet metal body parts, from subassemblies to full assemblies up to a complete car body. Read more about Hoffmann: http://www.kvhoffmann.cz/en