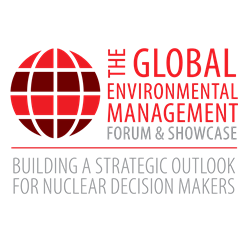 This year's Forum with its expanded focus on global endeavors and emerging environmental technology will further the Forum's longstanding reputation as a place where policy melds with technology and where information helps business decisions.
Washington, D.C. (PRWEB) April 20, 2016
ExchangeMonitor Publications & Forums will partner with the United States Nuclear Infrastructure Council (NIC) to launch an Environmental Technology Showcase in conjunction with the new Global Environmental Management Forum & Showcase. This Forum will be held November 1-3, 2016 at the Omni Shoreham in Washington, D.C. Previously known as the Decisionmaker's Forum, the newly-renamed Forum will gather decision makers within the nuclear industry to discuss new ideas, new markets, and new technologies in reducing nuclear danger and nuclear waste in the U.S. and internationally.
David Blee, chief executive for the NIC, is the Technology Chair for the Global EM Forum and joins Program Co-Chair, Llewellyn King, Founder of The Energy Daily and Executive Producer and Host of "White House Chronicle" and Rob Smart, Program Advisor, a former senior AREVA executive and President of Framatome, to facilitate topics that support this year's theme, "Building a Strategic Outlook for Nuclear Decision Makers."
The goal of this program is to raise awareness of diverse global initiatives and projects, promote greater participation in international dialogue, and to focus on new waste and environmental management technologies. Also through this Forum, ExchangeMonitor is continuing the late Ed Helminski's legacy by creating an educational program that allows for open and authentic discussions with key industry and government professionals and experts. The program will include key topics such as:

Emerging technologies
Business and financial opportunities and challenges
How to engage a new generation for the workforce
Decommissioning and demolition
Large capital projects
Updates from major sites domestically and internationally
And more!
Taking place a week before the national election, there will also be discussions on how the election results could and will impact the industry. The showcase portion of the program will include a platform for organizations to present and discuss new and developing technology to attendees.
"The Council is pleased to co-spearhead the inaugural Global EM Forum & Showcase," said Blee. "This year's Forum with its expanded focus on global endeavors and emerging environmental technology will further the Forum's longstanding reputation as a place where policy melds with technology and where information helps business decisions. The Showcase on environmental technology, in particular, will help to propel this critical mission forward," he said.
As an independent source of education and news, ExchangeMonitor is able to offer, within an intimate setting, an atmosphere of open dialogue to learn, network, and discuss both opportunities and solutions to challenges facing the nuclear industry in today's climate. Participate in frank, honest discourse and leave with real answers and explanations, which cannot be offered at other events.
Registration is now open for the 2016 Global EM Forum & Showcase, formerly known as the Decisionmakers' Forum. Plan to join us now November 1-3 in Washington, D.C. to receive important insight into the inner workings of the nuclear industry.
To learn more about the program, speaking and sponsorship opportunities, and more, visit http://www.globalemforum.com.
About ExchangeMonitor, a division of Access Intelligence, LLC
ExchangeMonitor Publications & Forums, founded by the late Edward Helminski, was acquired by Access Intelligence, LLC in March 2015. ExchangeMonitor publishes professional newsletters and creates, manages and sponsors forums, colloquiums and workshops to facilitate an exchange of views and information among government officials, private industry executives, non-governmental organizations and other entities on critical national and international programs and policies.
About Access Intelligence, LLC
Access Intelligence, LLC, a portfolio company of Veronis Suhler Stevenson, is a b-to-b media and information company headquartered in Rockville, Md., serving the media, PR, cable, healthcare management, defense, chemical engineering, satellite and aviation markets. Leading brands include Weapons Complex Monitor, RadWaste Monitor, Nuclear Security and Deterrence Monitor, GHG Reduction Technologies, Defense Daily, Cynopsis, Cablefax, PR News, FOLIO:, AdMonsters, Event Marketer, LeadsCon, Chief Marketer, Media Industry Newsletter, Defense Daily Network, Aviation Today, Studio Daily, POWER and Via Satellite. Market-leading shows include The Radwaste Summit, The Decisionmakers' Forum, The Nuclear Deterrence Summit, LeadsCon, CCUS Conference, The FOLIO: Show, Event Marketer Summit, SATELLITE 2016, OR Manager, LDC Trade Forums, Clean Gulf, ELECTRIC POWER, Energy Ocean and Offshore Communications. Access Intelligence also produces executive conferences for the healthcare, PR, media, cable, energy and defense markets.
About the United States Nuclear Infrastructure Council
The NIC is the leading U.S. business consortium advocate for new nuclear and the promotion of the American supply chain globally. The Council is composed of over 70 companies representing the "Who's Who" of the nuclear supply chain community including key movers, technology suppliers, construction engineers, manufacturers and service providers. The NIC is a member of the U.S. Department of Commerce's Civil Nuclear Trade Advisory Council and serves in advisory capacities for the Nuclear Innovation Alliance and Bipartisan Policy Center. The NIC encompasses five working groups and select task forces including a DOE Environmental Management Task Force (http://www.usnic.org).