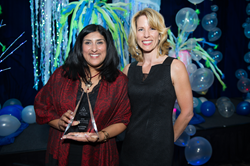 Athena is a catalyst event where more than 600 leaders in STEM gather to make connections and celebrate the profound accomplishments of their peers.
San Diego, CA (PRWEB) April 20, 2016
Executives, representing a variety of scientific and technology industries throughout Southern California, will gather at Athena San Diego's 18th Annual Pinnacle Awards gala to celebrate the leaders in STEM (Science, Technology, Engineering and Math) who are at the forefront of discovery, innovation and scientific advancement. The event will be held at the Manchester Grand Hyatt in Downtown San Diego at 5:00 p.m. on April 28, 2016. To register, visit http://athenasd.org/pinnacle-awards/
"Athena Pinnacle is a catalyst event - it's the one day where more than 600 leaders in STEM gather to make connections, be inspired by and celebrate the profound accomplishments of their peers," said Cheryl K. Goodman, Executive Director of Athena San Diego, a professional development association serving women executives and rising managers in science and technology. "Pinnacle attendees leave the event with a renewed sense of their own capabilities, which are in alignment with Athena's mission to enable, empower and equip rising female managers in STEM industries," says Goodman.
A special Chairman's Award will be also be revealed. The Chairman's Award, presented by Karen Fisher, Chairman of Athena San Diego, recognizes one top leader who has made a significant impact in the business landscape over their lifetime, while creating pathways for women in STEM leadership.
Rory Devine, NBC 7/39 Education Reporter will emcee the Pinnacle Awards. "I've emceed Pinnacle for 6 years and it's the one event where all girls and women are reminded that their success is only limited by their imagination," states Devine.
Pinnacle Scholarships
Athena Foundation each year awards five (5) deserving high school senior women within San Diego County who demonstrate exemplary skills in science and technology. Chosen from over 140 applications, these impressive young women have demonstrated impressive accomplishments and are the people to watch as our STEM leaders of tomorrow.
Founding Members:
Athena will also highlight the core group of women who founded Athena San Diego nearly two decades ago, which includes: Barbara Bry, Susan Mallory, Lynne Friedmann, Anne O'Donnell, Sigrid Pate, Tamar Elkeles, Martha Dennis, Karen Klause, Donna Caley Leach and Linda LeBeau.
Schedule of Events:
5:00 pm – 7:00 pm: Champagne Reception, Networking and Silent Auction - Proceeds to benefit
the Pinnacle Scholarship Fund
7:00 pm – 9:00pm: Dinner, Awards and Scholarship Program
Sponsors:
Athena San Diego's 2016 Pinnacle Awards is made possible with the support of Title Sponsor, Sony, Presenting Sponsors; Alexandria Real Estate Equities, Barney and Barney, Morrison & Foerster, Qualcomm, and Sheppard Mullin, Silver Sponsors; Beckton Dickinson, CBIZ Mayer Hoffman McCann, and Mintz Levin. Flowers are sponsored by RGP, wine is sponsored by Ernst & Young, and dessert is sponsored by DLA Piper. The San Diego Business Journal acts as the media sponsor for the Pinnacle Awards event.
Reservations:
Individual tickets can be purchased for $200 each or a table of 10 can be reserved for $2000 – though tables are selling out quickly.
Make reservations for Athena San Diego's Pinnacle Awards at https://goo.gl/6K0qzZ or by emailing elizabeth(at)athenasd(dot)org.
About Athena San Diego
Athena San Diego is a 501(c)6 professional development association serving women executives and rising managers in science and technology. Athena is a community of dynamic women that provides inspiration, education, networking and leadership programs that empower women to realize their true potential. For more information about membership and to learn more, visit http://www.athenasd.org.
About Athena San Diego Foundation
Athena San Diego Foundation is a 501(c)3 was established to support and oversee the Pinnacle Scholarship Fund. It is represented by an active Board of Directors committed to nurturing and supporting the next generation of women leaders in science, math and technology.
2016 Pinnacle Award Nominees
Nominated Companies/Organizations:
Dexcom
DLA Piper LLP (US)
Ernst & Young LLP
Halozyme
Human Longevity, Inc.
Intel Corporation
Susan G Komen San Diego
SweetLabs
UCSD von Liebig Entrepreneurism Center
Individuals nominated in Education:
Lisa Bozinovic - Biocom Institute
Terri Devine - Francis Parker School
Kimberly Gallo - First 5 San Diego
Roxanne Hunker - Rhoades School
Lauren Lek - Academy of Our Lady of Peace
Sue Lowery - University of San Diego
Emily Moberly - Traveling Stories
Grace Nakayama - Association for Women in Science, San Diego Chapter
Rosibel Ochoa, PhD - UCSD von Liebig Entrepreneurism Center
Youwen Ouyang, PhD - California State University San Marcos
Individuals nominated in Life Sciences:
Pamila Brar - Human Longevity, Inc.
Athena Countouriotis, MD - Halozyme Therapeutics
Kelly Culwell, MD - Evofem
Malene Hansen, PhD - Sanford Burnham Prebys Medical Discovery Institute
Susie Harborth - BioInnovation Capital
Laura Johnson - Dexcom
Camille Newton, MD - PureWick
Brandi Roberts - Mast Therapeutics, Inc.
Catherine Schnabel, PhD - bioTheranostics, Inc
Dina Uzri - Abreos Biosciences
Tera Valdez-Peterson - NuFACE
Lisa Van Dolah - San Diego Fertility Center
Joy Wolf - San Diego Zoo Safari Park
Individuals nominated in Services:
Elizabeth Altman - KPMG LLP
Stephanie Barnier - The Wealth Consulting Group
Holly Bauer - Latham & Watkins
Kelly Culwell, MD - Evofem
Stacey L. Davenport, PhD - Davenport Executive Search
Hal Dunning - Barney & Barney
Terri Graham - Women Evolution
Felena Hanson - Hera Hub
Will Marre - Smart Power Institute
Rama Padmanabhan - Cooley
Heidi Saulsbury - TriNet Life Sciences
Claudia Schwartz - HR Results
Stephanie Seidman, PhD - Dentons US
Jodi Smith - Ernst & Young LLP
Carla Vallone - Portavoce PR
Individuals nominated in Technology:
Monique Apter - Zhone Technologies
Susie Armstrong - Qualcomm
Jaye Connolly-LaBelle - RippleNami, Inc.
Lillian Cordova - Qualcomm
Shawn Covell, - Intel Corporation
Molly Gavin - Qualcomm
Laura Georgantos - SDG&E/Sempra
Camille Hayes - Dealstruck
India Jewell - Sony Electronics, Inc.
Juveria Kanodia - Mitchell
Courtney Lach - Qualcomm
Jan Marshall - Cubic Corporation
Yuko Nishikawa - Sony Electronics, Inc.
Terra Teat - JLab Audio
Samantha Urban - Urban Translations
Tricia Ward - Booz Allen Hamilton
Howard Wright - Intel Corporation
Keiko Yokoyama - Sony Electronics, Inc.