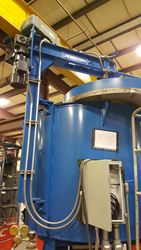 At Lindberg/MPH we work with our customers to provide them with the most effective and efficient equipment solution for their process. This pit furnace offers the customer features that provide ease of maintenance for their staff.
Riverside, MI (PRWEB) April 21, 2016
Lindberg/MPH announced the shipment of a pit furnace to a leading manufacturer of mechanical components. This industrial pit furnace performs a steam treating process on tool steels. Steam treating produces an oxide film on the surface of the part which improves wear resistance, improves corrosion resistance, and provides a uniform blue-black finish.
The heat treating furnace has a maximum temperature rating of 1250ºF. The work chamber is 39" in diameter with a depth of 36" and a total load capacity of 3,700 lbs. Vacuum formed ceramic fiber modules were utilized which have low heat storage and allow for fast heat up rates. The pit furnace utilizes a high limit controller to protect from over temperature conditions and an actuator for atmosphere flow control.
This furnace utilizes ni-chrome heating elements on the interior of an alloy retort to efficiently heat treat parts in a steam atmosphere. A thermocartridge recirculating fan and solid wall baffle provide uniform atmosphere and heat distribution. This new Lindberg/MPH design features a maintenance friendly fan and motor assembly which allows for reliable and easy maintenance when needed, compared to the old Leeds and Northrup furnace design.
Unique features of this pit furnace includes:

Vacuum formed ceramic fiber modules with low heat storage for fast heat up rates
Atmosphere tight retort
Heater coils designed with low surface watt density for extended service life
Thermocartridge fan for increased heat and atmosphere recirculation
Steam piping control
Soft start variable frequency fan drive
About Lindberg/MPH
In addition to melting and holding furnaces for non-ferrous alloys, Lindberg/MPH is a leading manufacturer of standard and custom industrial heat treat furnaces, including pit, box, IQ, and belt type for the ferrous and non-ferrous markets. Lindberg/MPH customers cover a wide range of industries including aerospace/military, automotive, commercial heat treating, energy/oil, electronics and the forging markets. Founded in 1917, the company has more than 75,000 industrial furnace installations worldwide and their equipment is backed by a full range of customer support services and the most extensive replacement parts inventory in the industry. Lindberg/MPH is a proven leader in the thermal processing industry, with a long track record of proven policies and management practices.
Lindberg/MPH is owned by Thermal Product Solutions ("TPS"), a leading American manufacturer of custom industrial ovens used for heat treating, finishing, drying, curing, manufacturing automation and process control. TPS is a global leader in thermal processing products and test solutions with brands including Baker Furnace, Blue M, Gruenberg, Tenney, Lindberg, Lunaire, MPH, and Wisconsin Oven. For more information on equipment solutions from TPS visit the website at http://www.thermalproductsolutions.com.