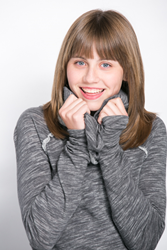 I created the app because it was a fun, positive way to interact with my friends, family and positive brands. Working with Hint® fits my goal of helping brands reach people in engaging ways - Mercer Henderson
San Francisco, CA (PRWEB) April 20, 2016
Hint® Inc, maker of the #1 fruit-infused water, is partnering with Audiots, the iOS app/keyboard that mashes together sound and emojis, to create a more interactive emoji experience.
Starting on April 20, 2016, the Hint® branded Audiot will be available within the iOS app store, for free. Users will be able to select the Hint® Water bottle emoji, and share with friends, which will be accompanied by a positive customized message such as "Drink Water. Not Sugar," and other fun sounds that relate to the various flavors.
"I love the way regular emojis help me add feelings to a text or post, but with all the new emojis out there it can be hard to know what they all mean," said Kara Goldin, founder and CEO of Hint®. "When I saw and heard how Audiots combines sound into an emoji, it made so much sense. When I found out that the company was started by a 13 year old, I couldn't believe it. Founder Mercer Henderson has a real vision for communicating healthy messages in a fun format. We're excited to be working with her to bring our Drink Water Not Sugar® messaging to consumers in an engaging yet simple format."
For Mercer, the relationship validates the role technology and brands can play in creating positive and healthy messages. At her young age, she saw quick success with Audiots: 15,000 downloads within the first month of launch and inbound requests from several international brands looking to partner. From the beginning Mercer has been clear she wants Audiots to be free, positive and give back. She is cultivating brand and celebrity relationships that will help her keep Audiots accessible for everyone.
"It's hard to believe that my app Audiots is working with a leading healthy-lifestyle brand to create an engaging, emoji experience," said Henderson. "I created the app because it was a fun, positive way to interact with my friends, family and positive brands. Working with Hint® fits my goal of helping brands reach people in engaging ways. Also, I personally drink Hint®, because it's super tasty."
To learn more about Hint® Water, please visit: http://www.DrinkHint.com, and follow @HintWater. To learn more about Audiots, please visit http://www.audiots.com and follow @audiotsappp.
To download Audiots https://itunes.apple.com/us/app/audiots/id1078710105?mt=8
About Hint®:
Hint®'s mission is to make it easy for people to live healthier lives. Our signature product, Hint® Water is the #1 flavor-infused water and has no sweeteners or calories. Founder and CEO Kara Goldin created hint® in 2005 to help herself and her family fall in love with water. She knew that they needed to give up unhealthy sodas, juices and diet drinks but found plain water boring. Her answer, hint® water, is now available nationwide at drinkhint.com, Whole Foods Market and many other grocery stores and food service establishments across the country. Hint® is at the heart of a healthy lifestyle and is available in many delicious flavors including Blackberry, Watermelon, Pineapple, Mango-Grapefruit, Strawberry-Kiwi and Raspberry-Lime.
About Audiots:
Audiots is an iOS app that mashes together sound and emojis. How it works: Download the app and load the Audiots sound Emoji Keyboard. Pick your emoji with professionally recorded sound bites. The person on the receiving end does not have to have the same keyboard to receive the sound emoji. Audiots was created by full time 7th grader Mercer Henderson, who performs with musical theater companies in San Francisco and New York, speaks Mandarin, plays sports and is a top student. The name Audiots comes from combining audio and it [emojis].