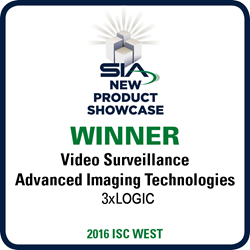 No other thermal camera on the market today can match the combination of our thermal technology, QR code easy install and set-up, edge-based recording, powerful analytics packages and price. Matt Kushner, 3xLOGIC CEO
Westminster, Colorado (PRWEB) April 19, 2016
3xLOGIC, Inc., a leading provider of integrated intelligent security solutions, today announced that it has won a prestigious Security Industry Association New Product Showcase (NPS) award for its recently-released VERA Thermal Camera.
"The impressive slate of new and improved products offered for consideration in SIA's New Product Showcase at ISC West represented truly diverse technological innovations," said SIA CEO Don Erickson. "SIA New Product Showcase judges saw many new companies enter the competition this year for the first time, and several first-time winners like 3xLOGIC emerged over strong contenders.
Since its inception in 1979, the NPS has been the security industry's premier awards-based marketing program. This year's NPS Program had 99 entries from small, medium and large companies in the security industry. The NPS judges presented awards in 26 product and service categories. The Award Winner's List is posted on the SIA NPS website at http://www.sianps.com.
The 3xLOGIC VERA Thermal camera is an all-in-one solution featuring standard embedded analytics and optional edge-based recording, VIGIL server software and advanced analytics. The combination of thermal technology and analytics provides for the drastic reduction of false alarms and the highly affordable price point opens the market to customers who previously found less feature rich technology too cost prohibitive to deploy.
3xLOGIC's VERA Thermal Camera was launched at this year's ISC West, which concluded on April 8th. "No other thermal camera on the market today can match the combination of our thermal technology, QR code easy install and set-up, edge-based recording, powerful analytics packages and price," said Matthew Kushner, 3xLOGIC CEO. "Clearly, the judging panel for these NPS awards recognized the camera's game-changing line-up of superior features at a price that makes thermal technology affordable for all for the first time."
About 3xLOGIC
3xLOGIC Inc. has been a leading innovator in server and cloud-based security technology for 15+ years. The company is recognized for providing easy-to-use surveillance and business intelligence solutions that seamlessly integrate video, access control, and disparate data such as ATM, Point-of-Sale, analytics, and more.
3xLOGIC's video surveillance solutions are engineered for ease of installation, scalability and affordability combined with a managed services portfolio that enables integrators to effectively evolve from dealers to high-value strategic partners. For more information about 3xLOGIC, please visit our website http://www.3xlogic.com.
For Media Queries:
Bruce J. Doneff
Public Relations
843.476.3022
doneff(at)verizon(dot)net
For 3xLOGIC:
Wendi Burke
Senior Director of Marketing
720.945.7966
wendi.burke(at)3xlogic(dot)com
###