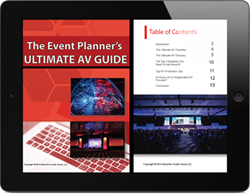 "We were inspired to create a basic guide that event planners could have at hand when booking audio visual for their event." - J Ocana
(PRWEB) April 21, 2016
Reaction Audio Visual, a nationwide single source provider for event technology and production needs, announced that they have released a new eBook for event professionals titled, "The Event Planners Ultimate AV Guide." Many event managers have a limited knowledge about audio visual technology. In fact, the Event Leadership Institute (ELI) recently reported that meeting and event professionals scored an average of 48 out of a 100 when asked about technical event production. That is a shocking statistic!
Reaction Audio Visual's COO, J Ocana, explained, "We have noticed that as soon as we started publishing blog posts with content that was catered toward event professionals, the views on our website have sky rocketed. We were inspired to create a basic guide that our clients (and event planners all around) could have at hand when booking audio visual for their event."
To receive your complimentary download of "The Event Planner's Ultimate AV Guide," please visit http://www.facebook.com/reactionav.
In "The Event Planner's Ultimate AV Guide," one can expect to find answers to these critical questions:

What is the best process when booking an AV provider?
What do all of the confusing terms mean?
What does one need to ask when choosing an AV provider?
What is important to know about AV production?
What is the difference between an in-house versus an independent provider?
Reaction Audio Visual has over 50 years of combined experience in technology, audio visual, and computer rentals. Their vision is to provide each and every one of their clients with the most personalized and high-end experience possible, so that their clients will go on and spark their own business success. To achieve this, Reaction Audio Visual delivers a full range of audio visual rental equipment and staging solutions, along with a team of dedicated, friendly, and experienced, personnel- all at an affordable price to exceed their client's every need and make their event one-of-a-kind!