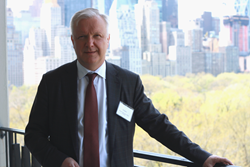 "The current biobanks make the country and its population an attractive subject for research" - Nora Kaarela, Head of Health Industry at Finpro, Finland´s Trade and Investme
New York, NY (PRWEB) April 25, 2016
The Government of Finland will invest in a National Genome Center and a national Comprehensive Cancer Center. This investment package is a new showcase of the national commitment in building a unique ecosystem for world-leading medicine research and testing. The announcement relates to the visit of Mr. Olli Rehn, Finnish Minister of Economic Affairs, in New York last week.
The national Comprehensive Cancer Center will be responsible for the coordination at national level of cancer research and the appropriate use of healthcare resources in cancer treatment. National Genome Center will strengthen the national platform for advancing genomics research and positions Finland a global pioneer in the genomics-related industry. Finland has already conducted concrete steps like innovation friendly Biobank Act that reduces the time-to-market for new drugs, technologies and solutions. The establishment of testbed environments – "living labs" – in university hospitals and clinics answer industry's needs for collaboration with the healthcare providers and the acceleration of commercialization of new products.
Nora Kaarela, Head of Health Industry at Finpro, Finland´s Trade and Investment Promotion Agency, states that the genomic data is globally unique stronghold the Finnish ecosystem offers. "The first tissue samples were collected for Finnish biobanks almost 100 years ago. The current biobanks make the country and its population an attractive subject for research. Furthermore, record-keeping in general has a long tradition in Finland. The registration of vital statistics, including for example births, deaths and marriages, was initiated as early as 1749."
The development of computer technology has made the collection of personal-level register information feasible. Finland has been one of the pioneers in health-related digitalization; national health registries have been held in databases since the 1960s. Today Finland's public healthcare system boasts electronic healthcare record (EHR) penetration at 100%. The ICT talent and expertise proved to be crucial for instance in GE Healthcare's decision to expand to Finland. GE made the decision to not only invest in Finland but to have Finland help define the future of digital health.
"We needed the ability to miniaturize, access to wearables and technology, and universities to improvise and test. VTT (Technical Research Centre of Finland Ltd) provided the talent and willingness to bring it all together," commented Thierry Leclercq, President and CEO, GE Life Care Solution and Health Systems, speaking at the luncheon of Finnish Minister of Economic Affairs Olli Rehn last week. Currently GE has brought Finnish innovation even closer to its operations by creating the GE Innovation Village in its Helsinki offices.
Katya Hancock, Director of Global Alliances for StartUp Health, was also a guest speaker at the ministerial luncheon last week. Last fall StartUp Health opened its first office outside of the US in Helsinki, housed in the GE Innovation Village, in cooperation with Finpro and Team Finland. As Hancock described, "we saw opportunities, innovation, and the ability to cross pollinate with startups and ex-Nokia talent. The magic just happened."
In recent years, Finland has attracted multinationals – such as GE Healthcare, Bayer, Perkin Elmer, Philips Healthcare, Thermo Fischer Scientific, Danaher, Varian Medical Systems and Elekta – to establish or expand their R&D operations in Finland. Investment has been encouraged by the high-level of cooperation between industry and Finland's academic hospitals and research institutions. The growth of the Finnish health sector has stayed strong through several recessions and global crises. Over the past two decades, Finnish health technology exports have increased at an average annual rate of over 8%. Finland is one of only 7 countries in the world to export more medtech than it imports.
A luncheon with Minister Rehn was organized at the NY residence of Consul General of Finland, Ambassador Jukka Pietikäinen, on Tuesday, April 19, 2016. The event was hosted jointly with the Finnish Ministry of Foreign Affairs and Finpro, Finland´s Trade and Investment Promotion Agency.
For further information, please contact:
Mr. Val Kratzman, Director Health & Life Science, Invest in Finland, val.kratzman(at)finpro.fi or +1 203-767-9676.
About Finpro
Finpro helps Finnish SMEs go international, encourages foreign direct investment in Finland and promotes travel to Finland. Finpro is a public organization consisting of Export Finland, Visit Finland and Invest in Finland. Our almost 240 professionals work in 37 Trade Centers in 31 countries and 6 offices in Finland. http://www.finpro.fi Finpro – Growth for Finland
In Team Finland, Finpro manages almost 40 significant Growth Programs such as Cleantech Finland, Food from Finland and FinlandCare. Through the Growth Programs, Team Finland helps hundreds of Finnish companies enter the international market and attracts investments from around the world to Finland.