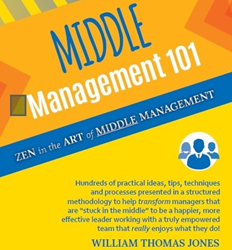 The middle manager could be the missing piece in improving all of our organizations, as well as our economy.
Cincinnati, OH (PRWEB) April 20, 2016
William Thomas Jones, a retired team leader has encapsulated his experience as a middle manager that spans five decades into a new book entitled Middle Management 101 – Zen in the Art of Middle Management. The self-published book is focused on helping middle managers, who are the most misunderstood, misdirected, mismanaged, poorly trained and 'hung-out-to-dry' members of the global workforce. The book is now available on Amazon.com.
Jones was inspired to write his book after being laid off in 2008.
"During that time, I became obsessed with the 'economic crisis,' as the news was constantly focused on the layoffs, closings, bailouts, foreclosures, corporate greed and dishonesty," said Jones. "I started to wonder who and/or what was really to blame for this crisis. Was it the owners, presidents or CEOs of our organizations? What role did senior management play? Did our 'worker bees' contribute? Was our government involved? And then it hit me. Nobody ever mentioned the 'middle manager!' Why not? Simply stated, they are invisible! And then I thought that perhaps the middle manager could be the missing piece in improving all of our organizations, as well as our economy. There are certainly a lot more middles than there are seniors. The prospective positive impact of stronger middle management is enormous!"
Initially, Jones searched for training that focused specifically on the special needs of the middle manager, but did not find anything. He started developing a program of hundreds of practical ideas, tips, techniques and processes presented in a structured methodology to help transform managers who are 'stuck in the middle' to be a happier, more effective leader working with a truly empowered team that really enjoys what they do.
The training program evolved into Middle Management 101 based upon a suggestion from a friend and former coworker, which he self-published with help from the team at CreateSpace, an Amazon company.
The book features eight key areas for success:

Recruiting the Best Talent for Your Team
Empowering Your Team
Rewarding Your Team
Communication Is Key to Everything
Managing Projects
Quality: "To Be, or Not to Be?"
Key Core Values to Display Daily
Things NOT to Worry About
In addition to the book, which is available from Amazon.com, Jones provides coaching, training and speaking services as a Middle Manager Advocate. More information about the book and Jones' services are available at http://www.middlemanagement101.com and on LinkedIn.
About the Author:
He started working in the fall of 1959 as a stock boy at a local grocery store and before officially retiring in 2009 served as a middle manager since the mid-60s for organizations in the manufacturing, retail, insurance, software and publishing industries. He has been around computers and software since the punch card. He has worked with over 50 bosses and managed hundreds of creative contributors including computer programmers, technical and marketing writers, editors, language translators, web programmers, graphic designers, project managers and event planners.