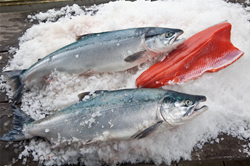 The flavor is incomparable. It's the essence of summer.
Cordova, AK (PRWEB) April 20, 2016
The 2016 Copper River salmon season is set to launch in mid-May and it looks like it is going to be another strong year for Alaska's premier salmon. According to the 2016 detailed forecast from the Alaska Department of Fish and Game, the Copper River king salmon season prediction points to a total run estimate of 64,000 fish. If realized, the 2016 total king salmon forecast would be the largest run since 2007. Regarding Copper River sockeye, the forecast points to a total sockeye run of 2.56 million fish which would be the 11th largest run in the last 36 years.
Sustainably harvested according to the strict guidelines set by the State of Alaska, the Copper River's wild salmon—king, sockeye, and coho—are renowned worldwide for good reason. High in protein and naturally rich in heart-healthy omega-3 fatty acids, Copper River salmon return to the region's massive Delta each year from May to September, making the long journey up the steep icy glacial fed waters. This arduous swim up river is what makes them inherently rich and deliciously desirable to eat. The small Copper River fleet is made up of about 540 independent fishermen who operate their small boats, carefully catching and bleeding each fish by hand, ensuring that the highest quality wild salmon is sent to markets in a timely fashion.
According to Christa Hoover, Executive Director of the Copper River/Prince William Sound Marketing Association, "Our harbor is starting to buzz with the excitement and anticipation of the season's launch. We are so proud of the fish we catch here in the Copper River and we love to share it with others. Our fishermen navigate their way through the salmon life cycle each summer…catching kings in May, sockeye in June and July and then coho in August and September. We really encourage people to enjoy our fish fresh while it is in season. Even though it can be found frozen in the off-season, it's worth grabbing a fork and digging in to Copper River salmon while it's fresh off the boat. The flavor is incomparable. It's the essence of summer."
To find Copper River salmon in your area, check out the Association's Locator App, ask for it by name at local seafood retailers, or order it directly from fishermen and suppliers.
The Copper River/Prince William Sound Marketing Association, a fisherman funded regional seafood development association, works on behalf of the 500 plus commercial salmon fisherman of Coastal South Central Alaska. The association works to build brand awareness for wild Copper River king, sockeye and coho as well as Prince William Sound sockeye, keta, and pink salmon.
For additional information contact:
Christa Hoover, Executive Director
info(at)copperrivermarketing(dot)org
http://www.copperriversalmon.org
Copper River/PWS Marketing Association
Box 199, Cordova, Alaska 99574
t: 907.424.3459:: f: 907.424-3430