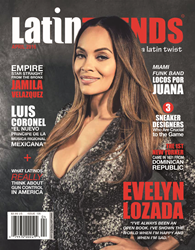 (PRWEB) April 20, 2016
Evelyn speaks about her show "Livin' Lozada" returns with all-new episodes on May 7th at 10pm on OWN: Oprah Winfrey Network.
FOX's "Empire" also returns for a new season, and Hakeen Lyon's truest love interest is back. Laura Callero, played by Jamila Velazquez, is not only a songstress on the show, but she tells LatinTRENDS she is a musical artist in real life too. For more on music, this month's issue also includes interviews with stars like Miami funk band Locos por Juana and Mexican regional singer Luis Coronel.
April's entertainment section also offers exclusives with Syfy's "12 Monkeys" star Kirk Acevedo who plays Jose Ramse, a hero saving the world from a deadly virus. Heroes don't sleep and neither does the cast of "New York Nunca Duerme." This fresh reality show follows NY's leading Latina business women and all their drama. See them Fridays on Telemicro Internacional. Another leading Latina is just a teen and she has taken Vine by storm with the most loops—ever! Vine star Lele Pons, has made a leap into the publishing world with her new book, "Surviving High School," co-written by New York Times bestselling author Melissa de la Cruz. Lele tells LatinTRENDS how bullying at school actually helped launch her career.
In celebration of Financial Literacy Month see LatinTRENDS' money making advice in "Four for Four: Wealth Building Tips" and "Reality Check for a Dream Retirement."
Gun control in America is a hot button issue. See LatinTRENDS in-depth investigation and learn more about "What Latinos Think About Gun Control." And in more coverage of national interest topics "Girls Code and Women Fire it Up," celebrates young girls in tech featured in the film documentary "CodeGirl," and "Discrimination in Single-Sex Bathrooms: A Thing of the Past?" explores Mayor Bill de Blasio's executive order that seeks to help end discrimination against transgender and gender non-conforming New Yorkers
Download the LatinTRENDS Magazine app@
iPhones & iPads: http://apple.co/20jTqTe
Android http://bit.ly/1nr2vvC
About us: LatinTRENDS is the source that helps shape, guide and tell the stories of those influencing pop culture with a Latin twist. It is the leading platform for acculturated Latinos in New York, producing content that informs, entertains and inspires the forward thinking.
For more information, please contact Maria V. Luna at (212) 852-6164 or via email at mluna(at)latintrends(dot)com