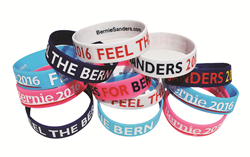 what better way to show support of your favorite candidate than by "wearing the vote" at CampaignWristbands.com!
San Diego, CA (PRWEB) April 25, 2016
The 2016 Presidential election is coming down to the wire.
CampaignWristbands.com has launched its 2016 Presidential Candidate gear featuring Bernie Sanders and Ted Cruz wristbands, patches, and lapel pins.
The company is helping voters show support for their favorite presidential candidate by letting them "wear the vote" with political gear! The non-partisan site currently offers genuine silicone campaign wristbands supporting Bernie Sanders and Ted Cruz. These wristbands have captured the attention of voters all over the U.S.
Currently, the most popular wristband is the hot pink "Babes for Bernie" wristband. The "Feel the Burn" wristbands and patches come in at a close second. Ted Cruz gear includes wristbands and lapel pins in a variety of colors, featuring his campaign slogan "Reigniting the Promise of America." The company ships within 1-3 weeks of purchase.
About CampaignWristbands.com
CampaignWristbands.com has been making custom wristbands, patches, lapel pin and more for years. Since 2004, the company has made over 25 million wristbands. Both the Democratic and Republican Party candidates, including Ben Carson, Herman Cain, Mitt Romney, Barack Obama, Marco Rubio and Carly Fiorina, have been represented through the company's gear and merchandise.
To avoid allergic reactions, genuine 100% silicone is used for all wristbands. Embroidered patches are 100% thread, LaserCut, with an adhesive back, which sticks to most garments. Lapel pins are high quality semi-cloisonne with a soft, rubber butterfly clutch to secure hats, shirts, jackets, bags and more.
CampaignWristbands.com encourages voters to jump on, support their favorite candidate and "Wear the Vote." May the best candidate win!