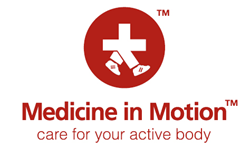 Regular physical activity increases a person's chances of living a longer, healthier life.
Austin, Texas (PRWEB) April 25, 2016
In conjunction with May's National Physical Fitness and Sports Month, Austin sports medicine practice Medicine in Motion is challenging all adults to get 30 minutes of physical activity every day for the month. Designated in 1983 by the President's Council on Fitness, the annual health observation month was created to promote healthy lifestyles and improve quality of life for all Americans.
"Regular physical activity increases a person's chances of living a longer, healthier life," said Dr. Martha Pyron, Austin sports medicine doctor and owner of Medicine in Motion. "It also reduces the risk for high blood pressure, heart disease, and even some types of cancer. Yet nearly 80 percent of adult Americans don't get the recommended amounts of exercise each week."
The Physical Activity Guidelines for Americans recommend that adults:

Aim for 2 hours and 30 minutes of moderate aerobic activity each week. Moderate activity includes things like walking fast, dancing, swimming, and raking leaves.
Do muscle-strengthening activities – like lifting weights or using exercise bands – at least 2 days a week.
A few benefits of physical activity include:

Children and adolescents – Physical activity can improve muscular fitness, bone health, and heart health.
Adults – Physical activity can lower the risk of heart disease, type 2 diabetes, and some types of cancer.
Older adults – Physical activity can lower the risk of falls and improve cognitive functioning (like learning and judgment skills).
Dr. Pyron added, "Physical activity is for everyone. No matter what shape you are in, you can find activities that work for you. Together, we can rise to the challenge and get more active during the month of May!"
Medicine in Motion (MIM) specializes in providing top quality sports medicine in Austin, Texas, for athletic individuals of all ages and levels. The staff at MIM believes active bodies are healthy bodies, therefore it is the office's goal to keep patients energetic and fit. To that end, MIM provides treatment of injuries and illnesses, including the use of physical rehabilitation; promotes healthy living with personal training and nutrition coaching; and offers comprehensive sports medicine evaluations to optimize health, activity level and sports performance. For more information or for questions regarding sports medicine in Austin, contact Medicine in Motion at 512-257-2500 or visit the website at http://www.medinmotion.com.