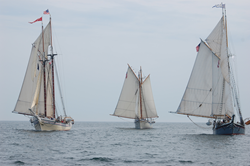 Boothbay Harbor, Maine (PRWEB) April 22, 2016
Organizers of the 54th annual Windjammer Days Festival are kicking off fundraising and planning efforts for what promises to be one of the signature events of the season. The Festival will take place June 26 – July 2, with nine windjammers scheduled to arrive in Linekin Bay on Tuesday, June 28th, entering Boothbay Harbor under full sail during the Parade of Sail on Wednesday, June 29th. Windjammer Days was recognized as a top-100 event in American by the American Bus Association for 2014 and 2015.
The yearly celebration of Boothbay Harbor's shipbuilding heritage as the magnificent tall ships arrive is a community-led effort that marks the arrival of the summer tourist season and brings thousands of dollars and visitors to local businesses.
"This is a family-friendly celebration," said Dianne Gimbel of Friends of Windjammer Days, the group that organizes the festival. "Most of the events are free to the public, which means we rely on cash donations from local businesses and supporters to be able to provide the entertainment, transportation and activities people love."
Gimbel invited businesses and individuals interested in sponsoring or volunteering to call the Friends of Windjammer Days at 207-504-0242 or visit the festival website at http://www.windjammerdays.org.
Windjammer Days 2016 will feature events for people of all ages. Local favorites like the Cod Fish Relay and cross-harbor Tug-of-War—which were traditionally part of the former Fisherman's Festival—will join the line-up, which also includes lobster-eating and oyster-shucking contests, lighted evening boat parade, and delicious food booths featuring local restaurants. Many classic events are returning, including the Boothbay Harbor One Design Boat Race; hometown street parade; antique boat parade; Artists' Alley; waterfront concerts; Pirates of the Dark Rose; museum exhibits; kids' tents; pancake breakfast; boat excursions; and a spectacular fireworks display over the harbor. Friends of Windjammer Days has also contracted a new partner to provide carnival rides and games.
The final schedule of events for 2016 Windjammer Days will be posted on http://www.windjammerdays.org and you can also visit our Facebook page at "Friends of Windjammer Days".
Windjammer Days 2016 is presented by the Friends of Windjammer and includes the following sponsors: Maine Magazine; Maine Home + Design; 94.9 WHOM; WMTW News Channel 8; the Portland Press Herald; Cruzan Rum, Fisherman's Wharf Inn, Tugboat Inn, Boothbay Harbor Inn members of the Lafayette Group; Small Town Brewery, Ted and Cheryl Nelson, Sherman's, Cabbage Island Clambakes, Bud Light; McSeagulls, Yale Cordage; A Maine Wedding, Five Gables Inn, Topside Inn, Boothbay Harbor Marina, Compass Rose Events; Capt'n Fish's Cruises; Gimbels of Maine Inc.; Flagship Inn; Amyland Amusements; Atomic Studios; Osman Page; Balmy Day Cruises; Robinsons Wharf; Pepsi; Pine State Trading Company; J. Edward Knight; Knickerbocker Group; Giles Family; Rocktide Inn & Restaurant; Federal Distributors; and Nathaniel S Wilson Sailmakers.
###