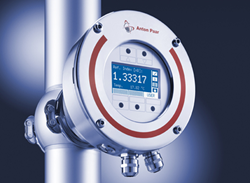 (PRWEB) April 21, 2016
Anton Paar is pleased to announce a new application for the measurement of vinegar component concentrations both in the lab and in the production process by using a combination of density and refractive index measurements. Vinegar is primarily a three part solution of water, alcohol, and acetic acid, therefore two measurement parameters are needed to define concentrations of each component. On the factory floor, Anton Paar's L-Dens family of process density sensors can be placed in series with the new Anton Paar L-Rix 510 process refractometer to continuously measure density and refractive index. The rugged mPDS 5 monitors both sensors and converts the measurement inputs to alcohol and acetic acid concentration outputs for the user.
For lab monitoring of the three part solutions, Anton Paar's DMA Generation M Density Meters and Abbemat Refractometers are connected via Canbus and both instruments are managed through one screen for an easy user experience. Concentration results are displayed through the DMA's new high resolution PCAP touch screen.
To learn more about how Anton Paar products can improve control of your process, visit http://www.anton-paar.com or contact us directly at info.us(at)anton-paar(dot)com.