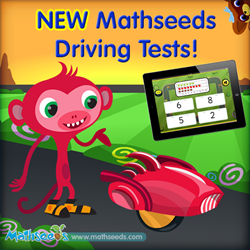 Mathseeds releases brand new Driving Tests expansion.
(PRWEB) April 22, 2016
The educational publishers of Mathseeds, an interactive online math program for children aged 3 to 8, have recently expanded their popular program to include a brand new, game-based learning area.
Driving Tests covers six core content areas for early math learners in grades K to 2 – with grade 3 coming soon – including number, operations, patterns and fractions, measurement, geometry, and data.
The fun new expansion provides elementary teachers and parents with a clear picture of where children are in their learning cycle. The colorful and interactive driving tests progress through a continuum of carefully leveled math skills, which children find fun and engaging to complete.
Young students complete the tests by moving an animated car through a racetrack – aiming to reach the finish line by answering a series of test questions that focus on a particular math skill. They revisit any questions they get wrong, and once they successfully complete a test, they unlock a built-in racing car game – an exciting incentive which motivates them to continue making progress.
The tests are easy for teachers and parents to administer, and each test delivers a set of questions that match each child's grade level.
Driving Tests is designed to help reinforce the content that students in the classroom or at home learn throughout Mathseeds' 150 online math lessons. Each lesson includes a structured sequence of interactive activities, colorful animations, fun songs, and collectible rewards, which encourage children to keep learning.
Teachers are able to view detailed progress reports for their class, school, and individual students. The school edition of Mathseeds provides thousands of teacher resources, including digital big books, lesson plans, and worksheets, and is aligned to the Common Core and state standards.
Recently, Mathseeds school edition also released district reporting features for school administrators, which provide useful, specific, and actionable data that help individual districts to identify which schools and grade levels are succeeding in math, while targeting those who require more support.
To learn more about Mathseeds' school edition, please visit http://mathseeds.com/schools to start a free trial or request a quote.