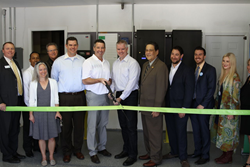 Las Vegas, NV, USA (PRWEB) April 22, 2016
Adara Power (formerly JuiceBox Energy), a privately-held Silicon Valley company committed to providing safe, reliable, intelligent, and connected energy storage, celebrated the first installation of its Energy Storage System in Nevada with a ribbon cutting ceremony yesterday, April 20th, at a residential home in Las Vegas where the system was installed. In attendance were federal, state, and local representatives and officials, renewable energy interest groups, local and trade media, as well as new residential solar customers who wanted to learn how energy storage benefits Nevada's solar industry.
This first installation includes dual 8.6kWh Adara Energy Storage Systems for 17.2kWh total capacity, along with an 11kW solar array. The grid-tied installation, located in NV Energy's territory, is designed to reduce the amount of energy drawn from the grid and increase the consumption of on-site energy produced by the solar PV panels. The home is also instrumented with a load demand monitoring system to provide a comprehensive overview of both energy supply, demand and consumption. The system was installed by Bombard Renewable Energy – a division of Bombard Electric, LLC – one of the leading renewable energy installers in the U.S. with an installed base of more than 200 megawatts, encompassing residential, commercial, and utility customers.
The Ribbon Cutting was co-hosted by the Las Vegas Metro Chamber of Commerce, and Adara Power was presented with a certificate by Shannon Rayborn, Policy Advisor to U.S. Senator Harry Reid and Michael Naft District Director for Congresswoman Dina Titus. Afterward, Neil Maguire, Co-founder and CEO, and Greg Maguire, Co-founder of Adara Power, demonstrated how the Adara Energy Storage System enables Nevada's solar customers to increase the use of self-supplied renewable energy and reduce their reliance on grid-tied energy consumption.
The Adara Energy Storage System is an intelligent, stackable 8.6kWh lithium-ion battery system designed for safe, reliable, long lasting power management. It is designed, engineered, and manufactured by Adara Power based on their company's years of automotive lithium ion control systems engineering. Each system delivers more than 10 years of operation or a minimum of 4,000 cycles of dedicated peak shifting, back-up power, energy efficiency, as well as enables participation in emerging interactive energy exchanges. The Adara Energy Storage System is housed in an indoor/outdoor, floor or wall-mounted UL-rated enclosure.
Nevada customers interested in the Adara Energy Storage System should contact Bombard Renewable Energy. Solar installers interested in Adara Power representation and installation certification should contact Adara Power.
# # #
About Adara Power
Founded in 2013, Adara Power (formerly JuiceBox Energy) is committed to providing safe, reliable, intelligent, and connected solar energy storage for renewable energy. Adara Power's Energy Storage Solutions are designed to support consumer self-consumption and enable a resilient, renewable energy grid in order to power a cleaner, sustainable planet. For more information, visit http://www.adarapower.com and follow us on Twitter: @adarapower.
About Bombard Renewable Energy
Bombard Renewable Energy, a division of Bombard Electric, LLC, serves commercial, utility, residential and non-profit customers in both the public and private sectors in and around Las Vegas. Bombard Renewable Energy of Las Vegas was recently named No. 47 on Solar Power World's 2015 Top 500 Solar Contractors list. Bombard Electric has been doing business in Nevada since 1982 and is a member of MDU Construction Services Group, an industry-leading construction services company with locations across the country. MDU Construction Services Group is part of MDU Resources Group, Inc. (NYSE: MDU). For more information, visit http://www.bombardre.com.