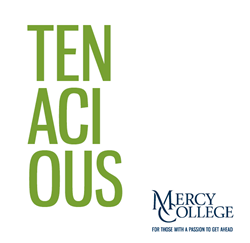 Dobbs Ferry, New York (PRWEB) April 23, 2016
Driven, obsessed, unstoppable, hungry for a great education and determined to have a rewarding career—these qualities describe the students of Mercy College as proclaimed in a bold new branding initiative. The new Mercy College brand is being unveiled this spring and will celebrate the grit and enthusiasm of Mercy students.
The program was developed to inspire and educate students, families, alumni, donors and the general public about the College founded in 1950 and accessible to students at Dobbs Ferry, Bronx, Manhattan, Yorktown Heights campuses and online.
President Timothy Hall explained that, while Mercy College has approximately 10,000 students and 50,000 alumni, it is not as well-known as it should be. "As a private college with excellent professional schools, we have an incredible offering of relevant curriculum, affordable fees, generous aid, dedicated professors and personal attention to ensure that students find their individual pathway to success."
Hall added: "Best of all is the spirit of our students—and that's what our brand celebrates. Our students come from all backgrounds and circumstances—and prove themselves able to overcome obstacles in life. They have their eyes riveted on the rewards of higher education and intend to achieve them no matter what."
See video of new branding in action.
Chief Advancement Officer Bernadette Wade, who leads the College's strategy for the new brand voice, said: "Everything we say and write—everything we do—is inspired by our students and their unique stories of finding their way through college to a better life."
Wade said: "We want our messaging to be bold, no-nonsense statements of our culture." She added that the College expresses its brand in one simple, powerful sentiment that all students seem to share: "For those with a passion to get ahead."
The new brand voice is also aiming to reactivate the College's alumni. Director of Alumni Relations Alexis McGrath said: "Our alumni are busy with their careers and their families and we want to remind them that Mercy is here to support them as we always have been. We also want them to pause, be proud and take stock of the importance of their college degree from Mercy. The new brand messages will capture their stories and serve as inspiration for the next generation."
An important goal of the new messaging is to encourage students to tough it out and stick to their commitment to higher education. "A college degree is a necessary ticket to getting ahead in this dynamic economy," said Hall. "Keeping students in school and graduating on time is a top priority, and this branding program both invites determined students to join us and encourages our current students to stay the course."
"Mercy College is not just about words," he added. "Our support for students—from finances to intensive mentoring—is second to none in the region."
About Mercy College
Mercy College is the dynamic, diverse New York City area college whose students are on a personal mission: to get the most out of life by getting the most out of their education.
Founded in 1950, Mercy offers more than 90 undergraduate and graduate degree and certificate programs within five schools: Business, Education, Health and Natural Sciences, Liberal Arts and Social and Behavioral Sciences. Mercy College challenges its faculty and staff to make higher education work for anyone hungry enough to earn a better place in life. With campuses in Dobbs Ferry, Bronx, Manhattan and Yorktown Heights, the vibrancy of the College culture is sustained by a diverse student body from around the region.
Committed to supporting students throughout their education, Mercy College offers a personalized learning experience that includes the College's Personalized Achievement Contract (PACT) program. PACT is a nationally recognized mentoring program that serves as a model for student success. http://www.mercy.edu/ 877-MERCY-GO.
MERCY COLLEGE
For those with a passion to get ahead