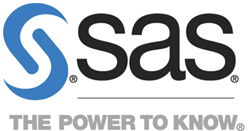 Cary, NC (PRWEB) April 22, 2016
The annual SAS Health Analytics Executive Forum offers health care providers, health plans, pharmaceutical and biotechnology companies greater insight into their patients and the use of analytics to improve care delivery, costs and outcomes. This year's conference on Wednesday, May 4, features world-class keynotes and analytics-focused sessions, and will be streamed live and free.
The keynotes are Bryan Sivak, Entrepreneur-in-Residence at the Robert Wood Johnson Foundation and former Chief Technology Officer of the US Department of Health and Human Services; and Dr. Bennet Omalu, the first doctor to diagnose chronic brain damage in NFL athletes and subject of the film Concussion (starring Will Smith as Omalu).
Live Stream of Conference Keynotes and Sessions on May 4
Conference sessions and keynotes will be streamed live from SAS headquarters in Cary, NC, on Wednesday, May 4, from 8 a.m. to 4 p.m. ET.
"Each year we host more than 300 invited executives across the health ecosystem to engage in powerful conversations about analytics, real-life best practices and industry trends," said Dan Cain, Vice President and General Manager of SAS Health and Life Sciences. "To increase our capacity and global scope for the inspiring keynote presentations and executive leadership panels, we live stream the main sessions and invite you to join us."
Other scheduled presenters include SAS CEO Jim Goodnight, Executive Vice President and Chief Marketing Officer Randy Guard, and executives from:

AmeriHealth Caritas
Cigna
Highmark
CareSource
Catholic Health Initiatives
DataMetica
Duke University
Forbes
INC Research
OhioHealth
PAREXEL
UPMC Health Services Division
For an agenda and complimentary registration to view streaming content, visit SAS Health Analytics Virtual Forum.
About SAS® for Health Analytics
SAS for health analytics helps determine the best decisions for both patients and health care organizations, improving health while better managing costs. Through modeling, optimization, predictive analytics and business intelligence, health and life sciences organizations can strengthen financial performance, deepen consumer relationships and improve health care outcomes.
About SAS
SAS is the leader in business analytics software and services, and the largest independent vendor in the business intelligence market. Through innovative solutions, SAS helps customers at more than 80,000 sites improve performance and deliver value by making better decisions faster. Since 1976, SAS has been giving customers around the world THE POWER TO KNOW®.
SAS and all other SAS Institute Inc. product or service names are registered trademarks or trademarks of SAS Institute Inc. in the USA and other countries. ® indicates USA registration. Other brand and product names are trademarks of their respective companies. Copyright © 2016 SAS Institute Inc. All rights reserved.