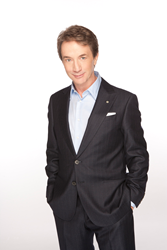 New Brunswick, NJ (PRWEB) April 22, 2016
STATE THEATRE HONORS
AON HEWITT
State Theatre Benefit Gala 2016
Saturday, April 30, 2016
Benefit Gala Ticket: $700 / Tickets for the concert only: $35-$85
Ticket Office: 732-246-SHOW (7469)
State Theatre will honor Aon Hewitt at the 2016 State Theatre Benefit Gala on Saturday, April 30, 2016 featuring comedian Martin Short.
This year's State Theatre Benefit Gala Corporate Honoree is Aon Hewitt. Aon believes the core of any corporation's citizenship is how its business contributes to society and to the communities where its employees live and work. Aon contributes by encouraging innovation and creating opportunity so that organizations and communities around the world can better manage risk and realize the full potential of their people.
In 2015, Aon invested more than $12 million in contributions to more than 2,300 organizations through the Aon Foundation, the principal vehicle for philanthropic programs in the U.S.
"Aon Hewitt is so very proud of our longstanding association with the State Theatre and applaud their efforts to enrich people's lives through the performing arts and entertainment," said Diana Robinson, Executive Vice President, Aon Hewitt.
"We are pleased to honor Aon Hewitt," said Tom Carto, State Theatre President & CEO. "Their support of the State Theatre Gala for the last 12 years has made a significant contribution to our nationally recognized education programs."
Gala Information
The Gala festivities begin at 5pm at The Heldrich Hotel and the performance will begin at 6pm. In addition to the concert, Gala guests will enjoy a reception, dinner with reserved seating, open bar, dancing, and live entertainment. The Benefit Gala, the State Theatre's biggest annual event, underwrites the State Theatre's artistically acclaimed programming and nationally recognized education programs. A portion of each ticket price represents a tax-deductible contribution to the State Theatre. Concert tickets range from 35-$85. For concert only tickets, call 732-246-SHOW (7469). Benefit Gala tickets are $700. For Benefit Gala tickets please call 732-247-7200, ext. 543.
The State Theatre's Patron Honoree award will be presented to Joan and Robert Campbell and the Leadership in the Arts award will be given to Greater Media New Jersey.
The 2016 Benefit Gala Co-Chairs are Brent (TCNJ) and Susan Podlogar (Johnson & Johnson, State Theatre Trustee) with support from Vice Chairs Scott Fergang (State Theatre Vice Chair) of RBC Wealth Management and Jacqueline Hancock-Pena (State Theatre Trustee) of Investors Bank.
About the Gala Artist
Martin Short, a celebrated comedian and actor, has won fans and accolades in television, film and theater since his breakout season on Saturday Night Live almost 30 years ago, and recently returned to SNL for the 40th anniversary special.
Short won his first Emmy® in 1982 while working on Canada's SCTV Comedy Network, which brought him to the attention of the producers of Saturday Night Live. He became a fan-favorite for his portrayal of characters such as Ed Grimley, lawyer Nathan Thurm, and "legendary songwriter" Irving Cohen.
His popularity and exposure on Saturday Night Live led Short to cross over quickly into feature films. He made his debut in Three Amigos and followed with Inner Space, Three Fugitives, Clifford, Pure Luck, and Tim Burton's Mars Attacks. One of Short's most memorable roles was in the remake of Father of the Bride, as Franck the wedding planner, a role he reprised a few years later in Father of the Bride Part II. Short is featured in the upcoming animated film Madagascar 3, and the Tim Burton film Frankenweenie.
An accomplished stage actor, Short won a Tony® and an Outer Critics Circle Award for his role in the revival of Little Me. He was also nominated for a Tony® and took home an Outer Critics Circle Award for the musical version of Neil Simon's The Goodbye Girl.
State Theatre, a premier nonprofit venue for the performing arts and entertainment. The theater exists to enrich people's lives, contribute to a vital urban environment, and build future audiences by presenting the finest performing artists and entertainers and fostering lifetime appreciation for the performing arts through education. The State Theatre's programs are made possible, in part, by funding from the New Jersey State Council on the Arts/Department of State, a Partner Agency of the National Endowment for the Arts, and contributions from numerous corporations, foundations, and individuals. The Heldrich is the official hotel of the State Theatre. Magic 98.3 is the official radio station of the State Theatre. The Star-Ledger is the official newspaper of the State Theatre. United is the official airline of the State Theatre.
STATE THEATRE
15 Livingston Ave
New Brunswick, NJ 08901
Ticket Office - 732-246-SHOW (7469)
Online - http://www.StateTheatreNJ.org
PHOTOS AND INTERVIEWS FURNISHED UPON REQUEST
Please contact Kelly Blithe at
732-247-7200, ext. 542 or by email at kblithe(at)StateTheatreNJ(dot)org.
Up-to-the-minute information on events and State Theatre news,
online at http://www.StateTheatreNJ.org.
# # #