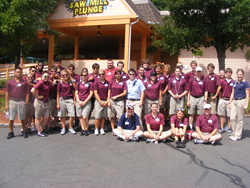 Bristol/Southington, CT (PRWEB) April 22, 2016
Lake Compounce Family Theme Park, one of the state's largest seasonal employers, is seeking approximately 500 additional individuals to join their team for this summer season.
Positions that are available include Food & Beverage, Games, Rides, Retail, Admissions, Maintenance, Grounds, Housekeeping, as well as at Bear Creek Campground. Applicants must be at least 16 years of age and be available to work a variety of shifts including weekends May through August.
All those interested are encouraged apply on Lake Compounce's Employment page. http://www.lakecompounce.com/employment
About Lake Compounce
Lake Compounce, part of the Palace Entertainment family of parks and New England's premier family theme park opens May 7th for the 2016 season. Celebrating its 170th season, Lake Compounce is the oldest continuously operating amusement park in North America. Summer Season Passes are currently on sale for the 2016 season starting at $55. More information and the park's operating schedule can be found at lakecompounce.com.
About Palace Entertainment
Palace Entertainment is one of the leading leisure park operators in the United States. With parks located in 10 states, Palace Entertainment continues its expansion of brands within the family entertainment sector. The company operates Kennywood amusement park in Pennsylvania, Noah's Ark water park in Wisconsin, Splish Splash water park in New York, and Raging Waters in California, among many other family favorite destinations. Palace Entertainment's parks provide family oriented and affordable attractions to visitors of all ages, offering a wide range of attractions, such as roller coasters, Ferris wheels, live shows, variable depth pools, water slides, animal shows, miniature golf courses and arcade games. Palace Entertainment greets millions of visitors annually.