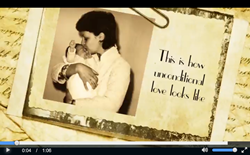 Atlanta, Georgia (PRWEB) April 24, 2016
All expats celebrating Mother's Day this May are invited on MobileRecharge.com Facebook page to celebrate mothers in an unconventional way. Besides an honest movie that depicts real family moments shot more than 20 years ago, MobileRecharge.com launches a simple and touchy contest for all Latin Americans, Americans, Caribbean, Portuguese, Canadians, Jamaicans, Spanish and Haitians who want to honour their mothers and win them a gift. The video and the event will be launched on Facebook starting May 3, 2016: https://www.facebook.com/MobileRecharge.Fan/
The gift marathon will take place between May 3-5 on MobileRecharge.com Facebook page, and the winner will be announced on Friday, May 6, 2016. The prize will be a free mobile top up for someone's mother abroad, a gift that never fails and gets to the destination instantly. Facebook fans and new visitors who want to enrol for the gift, should share how much they love their moms in a comment to the video starting May 3: https://www.facebook.com/MobileRecharge.Fan/
The video that opens up the celebration on Facebook promises to provoke people in the diaspora to a moment of nostalgia and awareness. As the production team announces, "the footage challenges the viewer to go through important moments in one's childhood, evaluate the long-term relationship between the child and his/her mother from an adult standpoint." Those who have seen it already described it as "touchy."
Reactions are more than welcome from the expat community on the Facebook page of the company: https://www.facebook.com/MobileRecharge.Fan/
The gift will be established by random pick and will be announced on Friday 6, 2016. It consists of free mobile credit from one country to another. Those who enrol, should make sure that the mobile they want to refill is in one of the following countries in the drop down.
The international top ups with MobileRecharge.com can be made from any PC or iOS and Android devices with Internet access. Since the transaction is online, it only takes a minute at most to fulfil the purchase. The only condition is to have an account on MobileRecharge.com, which costs nothing to open, and comes with several free features: transaction history, shortcuts to skip entering the number digit by digit and use nicknames instead, prompt customer support at any time, contests and frequent promotions.
If one prefers to transfer the mobile credit using an app, one should go for MobileRecharge on App Store or Play Store. The app is available for both iOS and Android devices and it is free to install or download.
With both the website and MobileRecharge app, expats abroad can send as little as $5 mobile credit to their friends and relatives in their native country. They can pay in any currency, according to the country they live in at present. PayPal is accepted besides any major credit or debit card displayed in the footer of MobileRecharge.com.
The processing fee that applies is the smallest on the global market, which makes MobileRecharge.com a service suitable for low budget purchases. For example, for $10.70 selected value for a mobile in Angola, one will pay a processing fee of only $1.74. The person in Angola will receive the credit instantly, and will be able to use the credit received from abroad for local calls, SMS, or data, according to the terms of his or her network. 
MobileRecharge.com serves people who left their motherland and moved in a new country for a better life, as well as travellers or professionals who live abroad temporarily. Just to have an idea, there are 50.5 million expats worldwide according to several reports, and the figure is expected to reach 56.8 million by 2017, which is 0.77 percent of the total global population.
The website browsing and the ordering process are made to fit both experienced and inexperienced users. That is probably why fans see the service as "simple" and "easy" according to what they say on review platforms like Trustpilot.com.
Other advantages they found on MobileRecharge.com and could not find about other services of the kind revolve around security, customer care, flexibility and customer satisfaction.
-Transactions are 100% safe; the service bears the label "Verified & Certified."
-Paypal payment is accepted besides all major cards, no matter the currency or country of the customer.
-There are daily promotions always running on the "Promotions" page, or on the MobileRecharge app.
-MobileRecharge app is available for those who want to refill on the go.
-The website is available in several languages: English, Spanish, German, French and Italian.
-All fans meet on Facebook, G+ and Twitter to keep up with the on-going promotions, contests or other events. The expat community on MobileRecharge.com Facebook page.
-Customer Service is seen as highly supportive; it is available 24/7 in both Spanish and English, and other international languages.
-Video tutorials are available on YouTube and the website to support expats worldwide.
MobileRecharge.com is an interactive website designed by KeepCalling, a global telecommunications company registered in 2002 in USA. Presently, KeepCalling provides its services to hundreds of thousands of consumers and businesses, with a focus on customer satisfaction. KeepCalling has been listed by Inc 5000 as one of the fastest growing companies in the USA for 5 consecutive years. In 2015 the company registered a revenue increase of over 200% from 2011 to 2014. MobileRecharge.com is the first brand in history who initiated on November 10, 2015 World Top Up Day to celebrate top up givers worldwide.