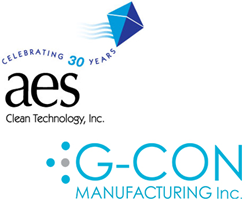 Our focus is whatever is best for the customer and that may be a total POD solution, a total AES solution, or a hybrid approach.
COLLEGE STATION, TX and MONTGOMERYVILLE, PA (PRWEB) April 25, 2016
AES Clean Technology and G-CON Manufacturing today announced a non-exclusive collaboration to work together on certain pharmaceutical and biopharmaceutical projects requiring cleanroom space to further expand the reach of both companies in providing turnkey cleanroom solutions. The collaboration brings together two industry leaders in the cleanroom space and provides customers with a full menu of options for their cleanroom projects when working with either company.
The collaboration is non-exclusive meaning that the parties may work independently or jointly with customers at the customer's election. The partnership enables a wider variety of cleanroom infrastructures and designs, and an ability to determine the optimal choice by the end-user.
"We are seeing a paradigm shift in the industry. The inflexibility of large volume brick and mortar facilities are now well understood and the desire for modular facilities is much more commonplace," said Maik Jornitz, President of G-CON. "As the industry recognizes the need for modular facilities, we need to provide the best solutions possible. Our focus is whatever is best for the customer and that may be a total POD solution, a total AES solution, or a hybrid approach. In single-use processing technologies, the most common optimal design is a hybrid solution and we fully expect that to be true in many facility cases. This means that our PODs will be merged with AES' modular panel structures to provide the most cost effective and robust solution. Through project experiences and excellent teamwork with AES, we have found that incorporating their products and expertise, our customers can gain the best result for a given situation. We always state that our PODs are a tool in the facilities development toolbox and our collaboration with AES furthers that point, having now two tools available for our joint client base."
Ralph Melfi, AES Clean Technology, Inc.'s Vice President of Sales & Marketing adds, "AES continues to integrate the latest technology and solutions available in the market to best serve our growing multi-national client base. The G-CON PODs give us the ability to integrate fully functional production modules into our overall modular delivery program, help accelerate the project delivery schedule and reduce the client's overall validation time cycle. With G-CON now integrating the AES modular Pharma Wall System into the POD, the interior core POD areas blend seamlessly with the balance of the AES facility build-out."
This collaboration is the unique partnership between modular companies, which makes the cleanroom design portfolio larger and more attractive for the end-user. The industry's interest in modular technologies has shown that collaborations like this are needed to meet the varying requirements of the panoply of projects presented globally.
About AES
AES Clean Technology, Inc. designs, builds and manufactures cleanroom facilities for critical environments. Corporate Headquarters including the cleanroom design and construction groups are located in Montgomeryville, PA. The 80,000 square foot manufacturing facility for the AES Pharma Modular Wall and Ceiling System is located in Suwanee, GA, just outside of Atlanta, GA. For more information, please visit our website at http://www.aesclean.com.
About G-CON
G-CON Manufacturing designs, builds and installs prefabricated, autonomous cleanroom PODs®. G-CON's cleanroom POD® portfolio encompasses a variety of different dimensions and purposes, from laboratory environments to personalized medicine and production process platforms. The POD® cleanroom units surpass traditional cleanroom structures by virtue of their scalability, mobility and the possibility of repurposing the PODs® once the production process reaches its lifecycle end. For more information, please visit the G-CON's website at http://www.gconbio.com.