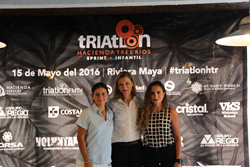 Cancún, Quintana Roo (PRWEB) April 23, 2016
The Eco-tourism complex and nature reserve Hacienda Tres Ríos Resort, Spa & Nature Park is ready to welcome 500 competitors, including three of the best triathletes in the country, who accepted the challenge of participating in the 6th edition of the Hacienda Tres Ríos Triathlon in the Riviera Maya, to be held on Sunday May 15th.
"In this sixth edition, the Hacienda Tres Ríos Triathlon has taken a foothold as a traditional sporting event and as a preparation for higher level competitions, thus our commitment is for the organization to be increasingly better every year," explained Mónica Roberts, Corporate Director for Operations for Sunset World Resorts & Vacation Experiences, at the press conference.
Carly Casarrubias, Competition Director for Más Acción, in turn announced that three of the best male triathletes in the country have confirmed their participation in this edition: Francisco and Manuel Serrano and Jorge Vázquez, as well as triathletes from Mexico City, Monterrey and State of Mexico. She reasserted her invitation to athletes, triathletes, runners, cyclists, swimmers and the general public who have yet to sign up, to challenge their own limitations and to participate in this important event that cements Quintana Roo as a destination that is increasingly attractive for sports tourism as it organizes the majority of Premium Series qualifying events for national ranking.
"The sprint and relay categories are available for people ages 16 to 65 and older, who will cover a 750 meter swimming route, a 20 kilometer cycling route and a 5 kilometer run. In the children's category the ages range from children age 6 to teenagers age 15 who will race in four different swimming, cycling and running distances according to their age," added Carly Casarrubias.
With the slogan "Accept the Challenge" the traditional sporting event, confirmed as one of the best in Mexico due to its attractive routes through the Mayan jungle, a natural river and the turquoise waters of the Caribbean, has the guarantee stamp of the Mexican Triathlon Federation. "There is no other competition with the landscapes Tres Ríos Nature Park has to offer. It is an event that affords competitors added value and a unique experience," stated Annie Arroyo, Corporate Brand and Communication Director for Sunset World, adding that the route includes a combined swim in the sea and then later upstream in Río Pájaros, one of the few in the Yucatan Peninsula, as well as cycling on a wide and very safe road and a run through paths surrounded by mangrove trees.
Victoria Juanicotena, absolute winner in the female branch in four editions of the Hacienda Tres Ríos Triathlon, including last year, said that for her and many of her triathlete friends, this sporting event is among the favorites due to its natural beauty and the challenge it poses as preparation for other competitions such as the Iron Man 70.3 World Competition, to be held on September 4th in Australia.
In order for triathletes and their families to spend an unforgettable day in the company of their friends and family, Sunset World created All Inclusive accommodation packages and is also offering a Day Pass so that loyal followers of this sport can enjoy their stay in harmony with nature. "Triathletes can stay with packages created especially for the competition, from $1,600 pesos per person for national guests to $1,400 per person for Quintana Roo residents", said Mónica Roberts, who also added that these packages are additional to the cost of the inscription and can be purchased by calling (998) 881 4500 ext. 6007 or via email ecommerce(at)sunset(dot)com.mx
Carly Casarrubias spoke about the inscriptions which have a cost of 1,300 pesos for individual sprint competitors ages 16 and older, 1, 700 pesos for relay teams of two or three athletes and for the children's category from 6 to 15 years with costs from $600 pesos up to $800 pesos, depending on the category. "The inscriptions are open until May 12th and depending on availability they will be open on Saturday May 14th during the competitor package pick-up at Hacienda Tres Ríos, the date when they will also need to bring their bicycles to leave in the transition area", she concluded.