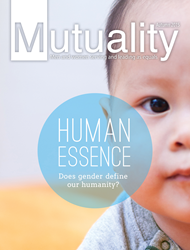 Minneapolis, MN (PRWEB) April 25, 2016
For the eleventh consecutive year, a Christians for Biblical Equality (CBE) publication has been recognized for its excellence by the Evangelical Press Association (EPA). At the 2016 EPA convention in Lancaster, PA, Mutuality, CBE's quarterly magazine, was honored with two Higher Goals in Christian Journalism awards from the EPA.
The 2016 Higher Goals awards honor the best work published by EPA member publications in each of several writing and design categories during the 2015 calendar year.
"Vulnerability Makes the Man: A Review of Man Enough by Nate Pyle," reviewed by Mutuality editor Tim Krueger, took second place in the Critical Review category, while Western Seminary PhD student Valerie Geer's article "Blood and Water Flowed: Becoming New through the Feminine Imagery of Redemption" finished second in the Student Writer of the Year category.
These awards testify to CBE's unique position in the evangelical world, according to CBE's president, Dr. Mimi Haddad. "CBE is consistently recognized by the EPA for its outstanding work in these and other categories, which is impressive considering that several evangelical publishing juggernauts dominate the Christian media. Yet, CBE stands out in its commitment to thorough, fair, and prophetic writing on the intersection of faith and gender. We are grateful to the egalitarian community of writers and thinkers who do the highest quality work on a subject that remains relevant year after year. They allow us to stand out among the crowd."
CBE's publications Mutuality and Priscilla Papers have won a combined 36 EPA awards since 2001. All their award winning articles are available online:
Priscilla Papers publishing awards
In its effort to advance a biblical foundation for gift-based rather than gender-based ministry and service, CBE sponsors annual conferences, facilitates local chapters, hosts an online bookstore, and publishes two award-winning journals. For more information, visit http://www.cbeinternational.org.