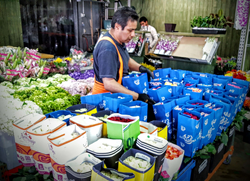 Mexico's new breed of quality, premium long stem red roses are emerging as a competitor to Ecuadorian roses, especially for DIY shoppers
Downtown Los Angeles, California (PRWEB) April 25, 2016
Ecuador's rose farms scrambled onto Skype and social media this week assuring California Flower Mall petalers they'll get steady shipments of prized long stem red roses for Mother's Day and Dia De Las Madres – their biggest flower holiday of the year. Ecuador's floriculture industry, the world's third-largest producer of cut flowers, 73% of which are roses, were not affected by the 7.8 magnitude earthquake that devastated parts of coastal Ecuador last weekend, but, big shifts are happening in Ecuador's rose trade.
"Not long ago a natural disaster would have fueled speculative price spikes and demands to lock-in orders or lose out before big flower holidays. Now, global market forces are prompting Ecuador's growers to treat U.S. buyers more gently, " says Mark Chatoff, president and owner of California Flower Mall a 45 vendor Los Angeles wholesale flower market on San Pedro Street in downtown L.A.'s eight block flower district.
"Our farm and transportation systems were not affected by the earthquake because we are in the Andes Mountains 228 km (142 miles) from the quake. Dreams Flowers will ship orders daily through Mother's Day Sunday May 8 and Dia De Las Madres (Latin American Mother's Day) Tuesday, May 10," says Javier Vera, international sales manager for Dreams Flowers LC in Latacunga, Cotopaxi. Most flower farms are located in Cotopaxi or its neighboring Province Pichincha.
"Mother's Day's receipts represent 25 – 40% of CFM vendors' annual transactions. The real news is rose farms can't afford to play price games with the U.S. market anymore," Chatoff says, citing three major market shifts:

In California, Mexico's new breed of quality, premium long stem red roses are emerging as a competitor to Ecuadorian roses, especially for DIY shoppers
Weakened Russian buying power due to oil price drops and U.S. economic sanctions
Europe and Eastern Europe can get the same quality, long stem rose for a lower price from closer high altitude, farms on the African equator
A Financial Times report "Roses with Altitude: Why Ecuador's Flower Industry Stands Out" explains how Ecuador is responding to floriculture developments elsewhere that could prune its ambitions. FT reports market leaders are implementing strategies to:
Reorganize to meet the U.S. markets' diverse rose product demand
Communicate industry best practices and improved working conditions shown in this Agrocoex video
Promote Ecuadorian rose farm tours as visitor attractions
"CFM vendors and LA's Flower District will benefit from Ecuador's new focus. And the dynamics of supply and demand will continue. The hope is that price swings will flatten out more as the South American rose export market matures. Some CFM flower wholesalers who've suffered holiday rose losses and lived to tell about it will never trade in roses again no matter what Ecuador does. They say they'd rather sleep at night," Chatoff says.
About California Flower Mall
The California Flower Mall, located at 825 San Pedro Street with parking at the 824 San Julian Street entrance, is one of the largest DIY wholesale flower marts in the eight block Downtown LA Flower District trade community -- the largest concentration of wholesale flower markets and flower businesses in the U.S. CFM is open 7 days a week to the trade and public. No admission fee is charged. See http://www.californiaflowermall.com for more details.