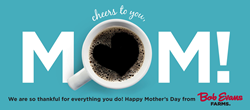 New Albany, OH (PRWEB) April 27, 2016
Kids up in the night, last-minute school projects, play dates, soccer practice, dance class, laughs, tears and everything in-between – both new and experienced moms have a tough job and Bob Evans Restaurants wants to reward them and thank them for all they do.
On Mother's Day, May 8, mothers who visit Bob Evans Restaurants will receive a voucher for free coffee (good for four visits). Enjoy a savory brunch to celebrate mom at the restaurant named Favorite Breakfast Chain in America, and let mom know how much she's loved.
"A lot of moms tell us that good, freshly brewed coffee is a must in their lives and it's no wonder with today's busy schedules, some days are just chaos," said Matt Harsh, vice president of brand marketing at Bob Evans. "We want to thank mom by giving her the caffeine fix she needs to keep up with her kids no matter what life throws her way."
At Bob Evans, mothers can choose from three blends that will brighten up their day, like the new Breakfast Blend coffee with a balanced and smooth medium light roast. Also, they can try the Signature Harvest Roast Coffee, a full-bodied medium dark roast; or try the flavorful and satisfying Harvest Decaf coffee.
Stop in for the perfect Mother's Day brunch and dive into any of Bob Evans breakfast favorites starting at $4.99. Mom will love the Cherry Brioche French Toast or Cherry Hotcakes, or grab a sweet Blueberry Cinnamon Blossom to go. Along with flowers this year, give mom something she really needs – a flavorful cup of Bob Evans' farm-fresh coffee," said Harsh.
The offer is good May 9 through December 31, 2016. For more information or to find a location near you, visit http://www.bobevans.com.
# # #
About Bob Evans Farms, Inc.
Bob Evans Farms, Inc. owns and operates full-service restaurants under the Bob Evans Restaurants brand name. At the end of the third fiscal quarter (January 22, 2016), Bob Evans Restaurants owned and operated 548 family restaurants in 18 states, primarily in the Midwest, mid-Atlantic and Southeast regions of the United States. Bob Evans Farms, Inc., through its BEF Foods segment, is also a leading producer and distributor of refrigerated side dishes, pork sausage and a variety of refrigerated and frozen convenience food items under the Bob Evans and Owens brand names. For more information about Bob Evans Farms, Inc., visit http://www.bobevans.com.