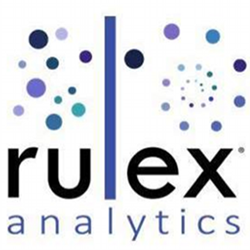 Cambridge, MA (PRWEB) April 27, 2016
The 13th Annual MIT Sloan CIO Symposium has announced Rulex Analytics as one of ten Finalists selected for the 2016 Innovation Showcase, as its Rulex cognitive machine learning platform represents strategic value and innovation to the digital economy. Rulex will receive key exposure to many of the world's most creative and influential IT executives at the Symposium on May 18, 2016.
"We are delighted to receive this opportunity to share our innovation with the forward-looking folks at this esteemed event," said Andrea Ridi, Rulex CEO and co-founder, "They are the ones who understand the business value and competitive power of new ideas, thoughtfully executed," he added, concluding, "We also heartily congratulate our fellow Finalists sharing this great honor."
Based on academic and government research by the company founders, Rulex is a machine learning software platform that uses cognitive, not computational, techniques to extract readable business logic, not black box calculations, from Big Data, and to make fast distributed predictions at the edge of the network. Rulex gives business and data experts the tools they need for rapidly monetizing enterprise, commercial, social, and IoT data, with lower cost and regulatory risk than other approaches.
"We are thrilled to invite these top 10 companies to our 2016 Innovation Showcase," said Anton Teodorescu, Co-Chair of the Innovation Showcase. "Their technologies are leading edge, and will be vital to empowering the future digital economy."
After careful consideration, the Innovation Showcase Judges evaluated and selected Rulex for this honor based on four important criteria:

Actively provides a B2B or B2C enterprise IT solution product to the market;
Is a startup with less than $10 million in 2015 revenues
Is selling enterprise IT solutions to CIOs or corporate IT departments; and
Shows innovation and/or strategic value with high potential impact on the top and/or bottom lines.
For a full list of Innovation Showcase finalists visit http://www.mitcio.com/innovation
The Innovation Showcase will take place at 5:30PM in the Kresge courtyard tent on Wednesday, May 18, 2016, at MIT, in Cambridge, MA. The full agenda of the MIT Sloan CIO Symposium is available at http://www.mitcio.com/agenda.
About Rulex
Boston-based Rulex Inc. offers the first-ever automated cognitive machine learning platform for the enterprise and the Internet of Things. The Rulex® platform eliminates the programming and math skills, speculative data exploration, and iterative experimental modeling required by conventional machine learning algorithms, dramatically accelerating, simplifying, and lowering the cost of Data Science. Visit http://www.rulex-inc.com to learn more about Rulex.
About the MIT Sloan CIO Symposium
The MIT Sloan CIO Symposium is the premier global conference for CIOs and digital business executives to become more effective leaders. In one day, CIOs and senior IT executives explore enterprise technology innovations, business practices and receive actionable information that enables them to meet the challenges of today and the future. The Symposium offers a unique learning environment by bringing together the academic thought leadership of MIT with the in-the-trenches experience of leading, global CIOs and industry experts. The MIT Sloan CIO Symposium is organized and developed by the MIT Sloan Boston Alumni Association, the MIT Initiative on the Digital Economy (IDE), and the MIT Sloan Center for Information Systems Research (CISR). Visit http://www.mitcio.com for more information and registration.
Editor's Note:
Journalists interested in press credentials or speaking with any of the Showcase Innovation finalists should contact Kevin Jordan (kevin(at)warnerpr(dot)com; +1 617-935-1930) or Sadie Smith (sadie(at)warnerpr(dot)com; +1 717-298-1865), Warner Communications.
Contact:
Tim Negris, Rulex Analytics
646-477-8253
tim.negris(at)rulex-inc(dot)com