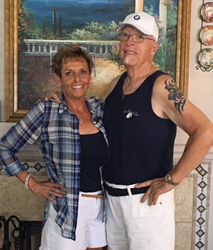 There are a lot of people who don't want people doing this [cannabis oil], but I think it has really done a lot for me.
Raleigh, NC (PRWEB) April 26, 2016
Andy Ashcraft's experience of treating his pleural mesothelioma with a combination of cannabis oil and healthy lifestyle has caught the attention of mesothelioma patients and families around the world. Surviving Mesothelioma continues the conversation with Ashcraft and his wife in the second installment of their series. Click here to read it now.
Although the US Drug Enforcement Administration still lists marijuana and its cannabinoids (biologically active ingredients) as Schedule I controlled substances, compounds from the marijuana plant have been used for centuries to treat a variety of ailments, including cancer.
"There are a lot of people who don't want people doing this [cannabis oil], but I think it has really done a lot for me," Andy told Surviving Mesothelioma in a recent interview. "I just feel very fortunate that we are able to get it."
The Ashcrafts are able to obtain high-quality oil from the bud of the marijuana plant through California's Medical Marijuana Program at a cost of about $1,000 a month.
"They are very upfront about the fact that the regimen Andy is using to managing his pleural mesothelioma is not cheap and not easy," says Alex Strauss, Managing Editor of Surviving Mesothelioma. "But given the limited options available to mesothelioma patients, we think this is information that they need to know."
For more detailed information about Andy's daily protocol and about the legal aspects of using cannabis oil in cancer treatment, see 69-Year Old Says Cannabis Oil is Keeping Him Healthy and Strong Six Years After Mesothelioma Diagnosis, now available on the Surviving Mesothelioma website.
For nearly ten years, Surviving Mesothelioma has brought readers the most important and ground-breaking news on the causes, diagnosis and treatment of mesothelioma. The information in this article is not a substitute for professional medical advice, examination, diagnosis or treatment. You should always seek the advice of your physician or other qualified health professional before starting any new treatment or making any changes to an existing treatment. You should not delay in seeking or disregard medical advice based on information in this article. Cannabis oil is NOT FDA approved for the treatment of any cancer.