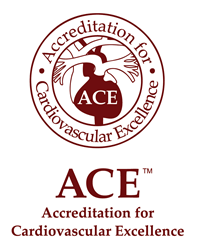 All hospital systems should view external peer review, with its unique focus on education and data collection processes, as a valuable quality improvement tool and key to their long-term success. -- Drs. Lilly and Lewis
Washington, DC (PRWEB) April 26, 2016
Accreditation for Cardiovascular Excellence (ACE) has received recognition in the publication of an article in the March/April issue of Cardiac Interventions Today. The article underscores the value of ACE services particularly in terms of providing external peer review to evaluate quality and practice patterns in cardiac catheterization laboratories.
Entitled, "A Comparison of Internal and External Peer Review," the Cardiac Interventions Today article, written by Donald R. Lilly, MD, and Stephen A. Lewis, MD, of the Charleston (WV) Area Medical Center (CAMC) Health System, summarizes the benefits of external peer review, and how ACE facilitated the process of quality improvement at CAMC. In particular, Drs. Lilly and Lewis relate how the ACE peer review process led to improvements in documentation and chart abstraction, and how ACE secured the engagement of the physicians in the CAMC cardiac catheterization laboratory.
"The external peer review experience underscored the importance of an ongoing relationship with an accrediting body such as ACE, which we intend to maintain," writes Drs. Lilly and Lewis in Cardiac Interventions Today. "All hospital systems should view external peer review, with its unique focus on education and data collection processes, as a valuable quality improvement tool and key to their long-term success."
NEW ACCREDITATION SERVICES
ACE now offers four levels of accreditation, expanding the range of options for hospitals seeking recognition for providing quality cardiovascular care. The components of the various levels of services may be viewed here: http://bit.ly/1VpNpEJ
"While ACE accreditation adds substantial value to any organization committed to advancing high-quality, cost-effective patient care, it need not be a 'one size fits all' proposition," commented Charles E. Chambers, MD, MSCAI, and ACE Board Chair. "We recognize that different facilities have different needs, based on their size, location, and practice patterns. By bringing in organizations at the Bronze, Silver, and Gold levels, we hope to make ACE accreditation a key selling point to their local communities, while encouraging them to seek higher levels of accreditation as their needs evolve."
About Accreditation for Cardiovascular Excellence
ACE is the leader in and the only provider of accreditation for all catheter based cardiovascular procedures. We have unique and proven experience in accrediting large hospital systems and peer-reviewed data on improving outcomes in cardiac catheterization laboratories. Quality improvement and accreditation is our business, we are an independent organization sponsored by the Society for Cardiovascular Angiography and Interventions (SCAI). ACE quality review and accreditation services play a critical role in continuous quality improvement programs, structured reporting and documentation. Join us. Learn more at http://www.cvexcel.org.