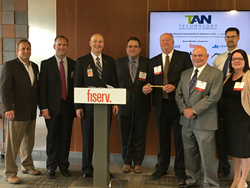 KEARNEY, NE (PRWEB) May 05, 2016
Last week, the Nebraska Department of Economic Development announced a new non-profit organization called the Technology Association of Nebraska (TAN). Xpanxion's CEO and President, Paul Eurek, is a founding board member in conjunction with individuals from eight other Nebraska companies.
The new technology association is a statewide organization dedicated to strengthening Nebraska's technology ecosystem. With the growth of the IT industry, it is a logical step forward for the State of Nebraska as it joins the ranks of similar organizations that already exist in other states. Moving forward, TAN will be looking to act as a coalition of IT companies to improve the business environment for the industry and promote growth within the State of Nebraska. This includes improvement of education and recruitment of talent, and introducing visibility, awareness, and advocacy of the industry's needs.
Xpanxion's Paul Eurek has long been a proponent of creating a technology association for Nebraska. "Xpanxion has seen tremendous benefit from other technology associations, so I wanted to help bring that same level of success and collaboration to Nebraska. I look forward to working with TAN and fellow members to develop the IT industry within the state," said Eurek. As a board member, Eurek looks to bring his experience to the organization and provide a successful future and direction to TAN. Xpanxion is also is a member of the Technology Association of Georgia, Technology Association of Iowa, and Colorado Technology Association.
About Xpanxion:
Xpanxion provides custom software services to enterprise clients in a variety of industries worldwide. Its unique Cross Sourcing model – combining onshore and offshore talent in Agile development teams – allows Xpanxion to leverage the scalability and cost-effectiveness of offshore resources while meeting the quality and communication standards expected by its clients.