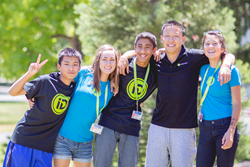 Since our mission is to prepare students for the future, we also want to prepare the future for our students. And what kind of a future isn't green?
CAMPBELL, CA (PRWEB) April 26, 2016
With the One Camper, One Tree campaign, iD Tech and the Arbor Day Foundation have planted over 155,000 trees since 2011. The results? Trees restored in three national forests while also inspiring over 155,000 students in coding and STEM (Science, Technology, Engineering, and Math) education. iD Tech donates one dollar to the Arbor Day Foundation for each student, and in turn, a tree gets planted.
Arbor Day may be an annual holiday where people are encouraged to plant and care for trees. However, at iD Tech, it's much more and happens daily. One Camper, One Tree is a 1:1 social movement which combine the company's passions of empowering kids with the importance of tree conservation. Each day as more students register for an iD Tech program, additional trees will be planted to help the Arbor Day Foundation with forest restoration projects .
"Since our mission is to prepare students for the future, we also want to prepare the future for our students. And what kind of a future isn't green?" said Pete Ingram-Cauchi, CEO, iD Tech. "Our goal is to plant 1 million trees… and we're well on our way."
Trees and campers, they're a lot alike. Trees make a world a better place, they provide food and even medicines. iD Tech campers also improve the world by funneling their tech passion into viable careers that help others. Take iD Tech alumni Zack Matthews who now develops hearing accessibility applications for the FCC to help the hard of hearing. Or alumna Rebecca Garcia who is the co-founder of CoderDojo NYC, a nonprofit that teaches coding to over 1,200 youth, especially in underserved areas. And there's alumni Ian Cinnamon (MIT '14, B.S. Computer and Cognitive Science), who is the Director of Strategy at the Immunity Project, a nonprofit initiative to developing a vaccine at no cost to end HIV and AIDS.
iD Tech inspires the next generation of coders, game designers, engineers, and innovators in a fun summer camp environment. Students ages 6-18 express their creativity through technology by learning programming, coding apps, and designing video games. Summer programs are held at over 100 prestigious campuses nationwide, including Stanford, Caltech, Princeton, Yale, and many others in 31 states.
"We're grateful to iD Tech for becoming a steward of our nation's forests," said Dan Lambe, Arbor Day Foundation president. "Our forests are part of the long and important legacy of the people and the land of our country. Thanks to iD Tech's commitment, thousands of trees will be planted to help clean the air, protect water resources, and restore habitat and beauty to forests that have suffered devastation."
With over 50,000 iD Tech campers attending this summer, another 50,000 more trees will be planted. Who knows how these trees will be used and what these students will do to improve the world. Regardless, with One Camper, One Tree, the world will be a better place.
To learn more, visit http://www.iDTech.com.
About iD Tech (http://www.iDTech.com)
iD Tech is the leader in summer STEM education programs for students ages 6-18, with over 235,000 students who have attended iD Tech since 1999. Students solve engineering challenges, learn programming, code apps, build robots, design video games, and more. Programs are held at over 100 prestigious campuses nationwide, including the Stanford, Rice, Caltech, Yale, Princeton, and many others. In addition to Alexa Café, there are 4 other iD Tech summer STEM programs held nationwide: iD Tech Camps (weeklong, all-girls, ages 7-17), iD Tech Mini (weeklong, co-ed, half-day options, ages 6-9) as well as teen academies iD Programming Academy and iD Game Design & Development Academy (2-week, pre-college, co-ed, ages 13-18).
About the Arbor Day Foundation (http://www.arborday.org)
The Arbor Day Foundation is a million member nonprofit conservation and education organization with the mission to inspire people to plant, nurture and celebrate trees. Founded in 1972, the centennial of the first Arbor Day observance in the 19th century, the Foundation has grown to become the largest nonprofit membership organization dedicated to planting trees, with over one million members, supporters, and valued partners.