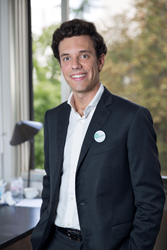 Our new partnership with ITMI is a wonderful way to promote guiding as a profession and to bring some international visibility to ITMI's graduates.
San Francisco, Calif. & Paris, France (PRWEB) April 26, 2016
The International Tour Management Institute (ITMI), America's premier school for professional tour directors and guides has teamed with Paris-based Meetrip to significantly expand its market reach and employment opportunities for its graduates.
"The robust booking portal developed by Meetrip is an ideal marketing tool for our tour directors and guides," states Ted Bravos, CEO of ITMI. "With Meetrip, our graduates can create personal profiles that attract clients from all over the world. Meetrip also allows our guides to more effectively market themselves to tour operators, event planners, travel agents and professional associations."
"As we're now established in Europe and Asia, we're looking forward to increasing our presence in North America," says Meetrip Founder and CEO Ralph Guyot-Jeannin. "We are thrilled to take our first steps into North America with ITMI, as the demand for tourist guides in the US and Canada continues to grow. Our new partnership with ITMI is a wonderful way to promote guiding as a profession and to bring some international visibility to ITMI's students. We hope that this partnership brings success to their graduates worldwide."
Meetrip's sophisticated technology is designed to accept payment in any currency and automatically converts it into the currency of the recipient. Payments are delivered to the tour guide electronically upon completion of the tour, either instantly and free of fees via Paypal, or within the following week through wire transfer. Well-designed profile pages provide details about the experience of the guide, the languages they speak and other relevant information. The calendar feature instantly shows prospective clients the availability of a guide, to streamline the entire booking process.
About ITMI:
Since 1976, ITMI has been America's premier training and certification program for professional tour directors, guides and travel staff. For more information about ITMI contact Annemarie Osborne Annemarie.Osborne(at)gmail(dot)com (800) 442-4864 (415) 957-9489 or visit http://www.itmisf.com.
About Meetrip: Meetrip.com is an innovative new platform for certified tourist guides, helping travelers connect with professional guides across the globe. Meetrip uses the latest technologies to revolutionize the guiding industry, making it easier and safer for tourist guides to establish their business and be hired by tourists, travel agencies and tour operators worldwide. For more information, contact Jason Schmidt, the business developer for North America, at +33 7 82 49 05 63, email jason.schmidt(at)meetrip(dot)com; or visit https://www.meetrip.com.
# # #