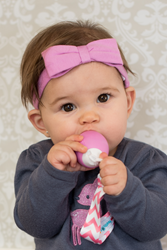 We just received it in the mail 15 minutes ago and he hasn't put it down!
Boca Raton, Florida (PRWEB) April 27, 2016
The Teething Egg® (Patent Pending), a one of its kind teething soother manufactured in the USA, has recently been launched to make the teething process for millions of babies (and parents) across the world a little smoother.
Most moms have had a teething baby that just couldn't stop chewing on things to soothe her gums or a child that loves to carry things in his hands wherever he goes. How many times do moms bend down to pick up the object of their baby's affection when dropped on the floor, or worry about its cleanliness?
The Teething Egg® is the solution to these problems! The Teething Egg® is a non-porous, seamless soother made with FDA-approved materials. The teether is also nontoxic, BPA-free, Phthalate-free, Lead-free, Latex-free and Consumer Product Safety Commission (CPSC) compliant, which is a prerequisite for many (understandably) cautious parents. Its unique shape and firm but supple texture mimics the texture of babies' own gums.
"As an entrepreneur with experience in start-up businesses, and being a new Mom, I was determined to find a product that would meet all these needs," says Jessica Luntz, President and Co-Founder of The Teething Egg®.
"I wanted to find a safe, affordable solution to my daughter's constant need to carry objects and chew on things throughout her teething period, which clearly was a means of self-soothing for her during this time. I just couldn't find anything on the market that adequately met her needs, so I created it."
"My daughter found comfort in small, round objects with a texture that she could gnaw on all the time. Naturally, my main concern was safety - finding a teether that wasn't a choking hazard, was manageable for her small hands to hold, something that was able to soothe her inflamed gums and keep her hands happy and busy. After more than a year of research, development and stringent testing, The Teething Egg was born."
The Teething Egg®:

Is small enough for baby to hold in one hand for lightweight sensory play;
Has consistent soft surface allowing babies gums to glide in all directions;
Is orthodontic friendly - promotes natural development of teeth and gums;
Is curved in shape and textured to aid in soothing inflamed gums;
Clips to baby's clothing to stay within reach and off dirty surfaces;
Is a fantastic pacifier replacement;
May be placed in the refrigerator for cooling sensation.
On average, teeth begin to emerge between the ages of three months to nine months, but most commonly around six months of age. In general, teeth erupt earlier for girls than for boys.
While 35% of babies do not demonstrate any teething symptoms, approximately 65% can experience any of the following: red and swollen gums, red and flushed cheeks or face, heavy drooling, gum-rubbing, biting or sucking, rubbing her ear on the same side as an erupting tooth, sleepless at night and wakeful during the day, not feeding as well, low grade temperature, bad diaper rash and diarrhea, while irritable and unsettled.
So for babies experiencing discomfort due to teething, look no further than The Teething Egg. The Teething Egg will soothe your child during one of the most profound and sometimes painful milestones of their little lives!
Available at http://www.theteethingegg.com