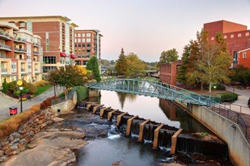 Retirees, working professionals, families, and even celebrities are moving to Greenville, SC because they appreciate the superior quality of life, economic vibrancy and abundant amenities this city has to offer.
Bluffton, SC (PRWEB) April 27, 2016
Marian Schaffer, Principal and Founder of Southeast Discovery, a real estate consulting firm specializing in guiding Baby Boomers with their real estate needs in the niche markets of retirement relocation and second homes in the Southeast region, recently commented on several factors contributing to Greenville, South Carolina's growing reputation as a top relocation destination.
"So many people continue to be drawn to this city in the upstate region of South Carolina," said Schaffer. "Retirees, working professionals, families – even celebrities like Matthew McConaughey are moving here because they appreciate the superior quality of life, economic vibrancy and the amenities this city offers."
Greenville has become a top city for relocation regardless of one's stage of life, according to Schaffer. In 2015, the Cost of Living Index (COLI), compiled by The Council for Community and Economic Research, showed Greenville to have the lowest COLI, 93.9, among five of the most popular southeastern cities such as Charlotte, NC – 96.4; Asheville, NC – 97.5; Atlanta, GA – 99.9; and Charleston, SC – 101.0. Greenville County is South Carolina's largest county with a population of 482,752 in 2014.
Greenville County residents are among South Carolina's wealthiest ranking second in per capita income in the state only to Beaufort County, which includes the coastal areas of Hilton Head Island, Bluffton and Beaufort. According to the US Bureau of Economic Analysis, Greenville County per capita personal income for 2013 was $40,257.
In addition to area universities Clemson, Bob Jones and Furman, the arts and economic environments city leaders envisioned and nurtured in this once-decaying textile and manufacturing town are also important facets for Greenville's growth. The Peace Center for the Performing Arts, built in 1990 on the former site of three dilapidated factories, today provides more than 300 performances a year, providing the impetus for more change and growth. The further development of Falls Park on the Reedy (founded in 1967) with its waterfall, pedestrian bridge, scenic green space and walkways accelerated during this same time period under visionary city leaders and became the popular focal point for the city that Greenville is today.
These two accomplishments – The Peace Center and Falls Park on the Reedy – jump started the revitalization of Main Street, now lined with boutiques, restaurants, coffee shops and shade trees. The influx of visitors and visiting professionals is responsible for the rapid addition of hotel rooms from 860 rooms in December 2015 to 1,947 rooms when all hotels in the development and construction stages are completed in the near future.
A number of creative initiatives also contribute to Greenville's thriving business climate and aid innovation, especially in the automotive and health industries. The Clemson University International Center for Automotive Research (CU-ICAR) is an advanced-technology research campus where academia, industry and government organizations engage in synergistic collaboration. One of its partners, The International Transportation Innovation Center (ITIC), is an automotive research and testing center that creates transportation innovations and provides access to expert knowledge and state-of-the-art labs. The ITIC testing infrastructure, embedded at the South Carolina Technology & Aviation Center campus, enables real-life validation of vehicle and infrastructure technologies developed in a simulation and lab environment.
Greenville is also home to Health Sciences South Carolina (HSSC), a public-private collaborative of universities and health systems to improve the health, health care and economic well-being of South Carolina. HSSC has nine participants including Clemson University, University of South Carolina, Medical University of South Carolina, and Greenville Hospital System University Medical Center.
The city's leaders have only just begun, with strategic initiatives in place to ensure the city's future. Greenville Works, NEXT, Greenville Forward, and Ten at the Top are public-private collaborations that create and maintain healthy, sustainable growth for the city and a quality of life to accommodate the diverse demographic needed for a vital community.
"Matthew McConaughey is spot on when he says he's moving to Greenville because the people there are genuine and care about their community. The availability of good jobs, diversity of arts offered, excellent health care system, as well as healthy community initiatives such as the multi-use 21-mile Swamp Rabbit Trail, make Greenville, South Carolina an excellent choice for working professionals, young families and retirees alike," said Schaffer.
About Southeast Discovery
Since 2004, Southeast Discovery has been a trusted resource for candid information and insight on communities, developments, and general real estate in the Southeast. Through its highly-ranked web portal, newsletter and blog and its one-on-one work with clients, Southeast Discovery helps buyers actively looking for a retirement or second home in the Southeast navigate the process of identifying the right area and community for their needs. To learn more, visit http://www.southeastdiscovery.com/