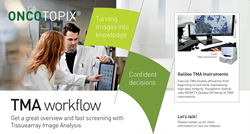 The application of the Galileo Platform for TMA preparation in routine diagnostics has proven cost effective and improved laboratory workflow without compromising the diagnostic accuracy...
(PRWEB) April 26, 2016
Today ISENET and Visiopharm announce a non-exclusive world-wide distribution agreement to provide Visiopharm image analysis with the Galileo TMA instrument, along with the Visiopharm Tissuearray™ imaging module, a part of ONCOTOPIX®, for tissue based research and diagnostics.
Cost effective and improved laboratory work flow in routine diagnostics
"The application of the Galileo Platform for TMA preparation in routine diagnostics has proven cost effective and improved laboratory workflow without compromising the diagnostic accuracy. The advantage of the Galileo Platform is also the possibility to include macro donor blocks for the TMA procedure. With this system we have the opportunity to perform biomarker analyses on several tumors on a single slide including control tissue for quality assurance of the immunohistochemical staining reaction, says Dr. Anne-Vibeke Lænkholm, Department of Surgical Pathology, Zealand University Hospital, Denmark."
Fast, user optimized and powerful TMA tools for clinical research and routine diagnostics
Working with Tissue Micro Arrays (TMA) can be extremely complex, the data tedious to manage, and the analysis overwhelming. The combination of Galileo TMA instruments, along with the Visiopharm Tissuearray™ imaging module now offers laboratories a great solution to reduce costs, while at the same time increase workflow efficiency and insure safe management of all relevant patient data and quantitative results.
"Rapid, cost-effective screening of one or more biomarkers, across hundreds of valuable tissue samples, is very meaningful to scientists and pathologists in the development of drugs, clinical research, and in diagnostics. The worldwide collaboration for the Galileo Tissue Microarray means that laboratories now will be able to maximize their productivity and quality while preserving the integrity of valuable tissue and the corresponding patient data. The Galileo family of tissue arrayers and our Oncotopix® software will provide customers with the best TMA solution available; fully streamlining the process from tissue biopsy to quantitative results across hundreds of samples at one time, says Amanda Lowe, SVP of Visiopharm for the America's."
High volume with full traceability
"TMA technology is progressively applied in basic and clinical research for biomarker validation and in diagnostic applications (e.g. in Precision Medicine and Rare Cancer). Lately it is also used as HT screening tool in Stem Cell research. A fully integrated platform is necessary to guarantee full traceability during the TMA and analysis process. We are impressed with Visiopharm's Oncotopix® platform, which incorporates our TMA technology into the pathology workflow; giving the pathologist and researchers the confidence they need with further enhanced robust traceability of tissue specimens. The Galileo Platform integrate seamlessly with Visiopharm's Tissuearray™ module, a powerful part of Oncotopix®. Together ISENET and Visiopharm provide the most comprehensive, dedicated TMA solution available in the market today, ends Prof. dr. Pasquale di Blasio from ISENET".
Empowering the technologist
Laboratories can expand their TMA solution with additional Visiopharm's Image Analysis modules, which empowers non-pathologists to complete all technical aspects of the analysis before having the data reviewed by a pathologist.
About ISENET
Integrated Systems Engineering (ISENET) Galileo Family of Tissue Microarrayers with its open architecture can manage different size of tissue blocks (standard, macro and 96 well plate formats). Galileo's TMA interfaces directly with the most common used Digital Scanners becoming the preferred TMA platform in leading Pathology research centers, world-wide. ISENET is the only TMA manufacturer that can offer a complete line of products from manual to semi-automatic to fully automated systems.
ISENET, is a privately owned company founded in 1996 by the Managing Director and Chief Executive Officer: Pasquale De Blasio having a strong background in Biobanking and Instrumentation Design and Manufacturing.
ISENET has become a leader in TMA manufacturing providing outstanding customer service by promoting strong client relationships through education, hardware customization, and in designing specific applications such as in assembling in vitro cultured pluripotent stem cell lines (iPSCs) in microarray format (CMA). Cell macroarrays are constructed to allow the simultaneous analysis of the expression of multiple proteins in a multitude of stem cell types and to establish the degree of pluripotency, differentiation and co-culture contamination. Both surface markers as well as nuclear and cytoplasmic proteins can be analyzed and over 200 slides can be made from the artificial cell blocks suitable for future evaluation.
About Visiopharm
Visiopharm image analysis software has become the preferred Quantitative Digital Pathology solution for leading biopharmaceutical companies, contract research organizations (CRO), research institutions, and for hospital diagnostic pathology labs around the world. Recently, Visiopharm has recently expanded to include ONCOTOPIX® Diagnostics a robust solution for cancer diagnostics with CE-IVD algorithms for the breast panel, integrated LIS driven workflow, and Virtual Double Staining. Our software is featured in over 800 scientific publications, and is compatible with leading slide scanner manufacturers, data management software, and a wide variety of microscopes and cameras.
Visiopharm, a privately owned company, was founded in 2001 by the Managing Director, and Chief Executive Officer, Michael Grunkin and the Chief Technical officer, Johan Doré Hansen, who both have a strong scientific and practical background in image analysis.
Our company has grown into an international business with over 550 licenses placed, with countless users, in more than 30 countries. Our growing network of authorized distributors and integration partners support the growth of Visiopharm solutions on several continents including North America, Europe and Asia. Our headquarters is located in the Medicon Valley of Denmark, with a branch office in the Netherlands, and a North America office in Broomfield, Colorado.