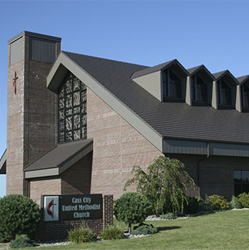 As the one most experienced metal roofing contractors for churches in the state of Michigan, we are continuing to find ways to better serve their needs. - Frank Farmer - President, American Metal Roofs
Flint, Michigan (PRWEB) April 27, 2016
American Metal Roofs is excited to announce the launch of a newly revised Church Roofing Program.
American Metal Roofs (AMR) takes a consultative approach, offering a 5-step process to ensure that churches are making the right choices and are given the tools to help raise the needed funds for the project. By solving long-term roofing problems and lower utility costs, American Metal roofs is setting themselves apart from less experienced competitors.
As part of the educational process, AMR has created a new "Video Mailer", which will be mailed to interested churches. This folder contains requested printed information and a brand new introduction video featuring Frank Farmer, owner of American Metal Roofs and champion of the AMR outreach to churches.
"As the one most experienced metal roofing contractors for churches in the state of Michigan, we are continuing to find ways to better serve their needs." - Frank Farmer - President, American Metal Roofs
In the video, Farmer explains how AMR is uniquely positioned to help churches make the best long-term roofing decision and how to avoid common errors when it comes to evaluating competing roofing proposals and companies. In addition, the video features interviews with church leaders about their experiences working with AMR. It also includes before and after images of their roof projects.
The launch of the Video Mailer program kicks off with an introductory postcard mailing to over 5000 churches in the state of Michigan in early May.
Churches can learn more about saving money with metal roofing solutions here.
About American Metal Roofs:
American Metal Roofs provides residential and commercial metal roofing products and services for the Michigan Lower Peninsula. American Metal Roofs specializes in installing metal roofing from the leading manufacturers of permanent metal roofing.