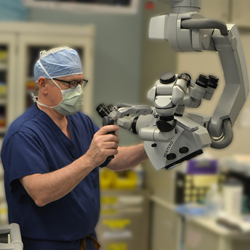 Surgeons must constantly learn about new technologies such as the Zeiss microscope that contribute to the accuracy and precision in the operating room.
La Jolla, California (PRWEB) April 28, 2016
Neurosurgeon Richard Ostrup of Neurosurgical Medical Clinic of La Jolla, http://www.neurosurgeon-sandiego.com, performs brain and spine surgeries, including complex cases that require hours of operating on a particular surgical site. Today, he uses a Zeiss OPMI® Pentero® 900 microscope, which has been integrated with BrainLab's Curve™ image guidance system. This means he has access to the patient's pre-operative studies and can simultaneously utilize a "real-time" image-guidance system to perform the surgery--all integrated into the Zeiss microscope in the surgical suite.
"Surgical instrumentation and viewing platforms have come a long way since I began as a neurosurgeon more than 20 years ago," said Ostrup, the chief of neurosurgery at Sharp Memorial Hospital. "Prior to this new microscope, I used both a microscope and a separate navigation tool and monitor. Today, the new Zeiss microscope gives me all the information and images I need to perform the surgery. I don't have to have two fields of vision--looking down at the surgery with a microscope I'm performing, and then looking up to a navigational tool and monitor that illustrates my surgical field. Now, with a single field of vision, I have the option of navigating without taking my eyes off the surgical site—a significant advantage when operating on delicate and complex areas of the brain." The OPMI® Pentero® 900 also features three motorized axis and a laser-guided autofocus, taking the vision down to a fraction of a millimeter.
Ostrup's philosophy as a surgeon is to minimize tissue loss, extract only what is necessary and get the patients back on their feet as soon as possible, whether the surgery is on a patient with a disc replacement or one with a brain tumor. "I want patients to know that they are in good hands and that we have all the technology surrounding them to create a successful surgery." He adds that time is a critical element in the surgical suite and this microscope/digital viewing/data repository system can save precious time and contribute to the accuracy and precision in the operating room. "As surgeons, we are constantly learning about new technologies that create efficiencies in the operating room and ensure positive outcomes."
Ethel Hasslinger, Advanced Neuro Clinician at Sharp Memorial Hospital, concurs, "I enjoy this new technology and I've seen that the surgeon is able to make smaller incisions and precisely enter the exact location of the tumor, for example. We can also take videos and photos of the surgery—so it is also a teaching tool for the team or others learning about these operations."
The ZEISS OPMI® Pentero® 900 microscope is being used in 750 hospitals nationwide. In San Diego alone, 10 hospitals, including the Sharp HealthCare system, use the microscope alone or in combination with other navigation systems.
Dr. Richard Ostrup has served as the chief of Neurosurgery at both Sharp Memorial Hospital in San Diego and Scripps Memorial Hospital in La Jolla. He is the co-inventor of the Camino Intracranial Pressure Monitoring Device. He has been an unaffiliated neuro-trauma consultant for the San Diego Chargers and has a strong interest in concussions and sports neurosurgery, in addition to his interest in the spine, complex spine, brain tumors, and peripheral nerves. Dr. Ostrup is a partner with Neurosurgical Medical Clinic and has offices in both San Diego and La Jolla, CA.
For further information, visit the Web site at: http://www.Neurosurgeon-SanDiego.com. For media inquiries, contact Barbara Burton of The Burton Company (Barbara[at]theburtonco[dot]com) or call 858-775-7787.