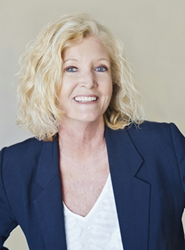 Mo's extensive knowledge and familiarity with this region's transportation market is a tremendous benefit as we continue to grow the firm's market share in the West Division
LOS ANGELES (PRWEB) April 26, 2016
HNTB Corporation announces Maureen "Mo" Hayes as government relations and business development leader for the West Division, based in the firm's Orange County office.
Hayes brings more than 24 years of experience in managing public policy and business development for complex infrastructure programs and projects throughout California and the western United States.
"Mo's extensive knowledge and familiarity with this region's transportation market is a tremendous benefit as we continue to grow the firm's market share in the West Division," said Art Hadnett, HNTB West Division president. "Her knowledge of transportation issues and her affiliation and leadership in the most influential civic organizations in the state demonstrate her ability to serve as a trusted advisor to local, regional, state and federal entities, helping them drive policies and bills that improve transportation infrastructure throughout the Western U.S."
In her new position, Hayes is responsible for coordinating interactions with government officials and key stakeholders to achieve the firm's strategic goals in the West.
Prior to joining HNTB, Hayes served as senior vice president for an engineering consulting firm where she was responsible for government relations activities and developing new business opportunities for complex infrastructure projects in the state.
Her major client experience includes the Los Angeles County Metropolitan Transportation Authority Gold Line Foothill Extension Construction Authority and the Metro Exposition Line Light Rail; Oakland Airport; California High Speed Rail Authority; and Orange County Transportation Authority, among others.
Her extensive professional and civic affiliations include serving on the board of the Los Angeles Area Chamber of Commerce where she chairs the Transportation and Goods Movement Council and the Association of California Cities – Orange County. She also chairs the Infrastructure Committee for the Orange County Business Council.
HNTB's West Division can trace its roots back to the firm's first project, the Willamette River Bridge in Portland, Oregon, built in 1912. That bridge soon was followed in 1914 by Pasadena's Arroyo Seco Bridge in California. Both bridges still are in operation.
Today, the division serves clients in nine states. Those clients include state departments of transportation, toll authorities, rail/transit agencies and aviation authorities.
HNTB's many signature infrastructure projects in the region include: San Francisco 49ers' Levi's Stadium, Interstate 405 Sepulveda Pass Improvements project, Seattle's Sound Transit University Link light-rail and tunnel project, the Tom Bradley International Terminal Expansion for Los Angeles World Airports, and the "Green Build" expansion at San Diego International Airport.
Currently, HNTB is working with the City of Los Angeles to deliver final design and construction support services for the Sixth Street Bridge over the Los Angeles River between downtown and Boyle Heights. Additionally, the firm is providing design and engineering services for the Crenshaw/LAX Transit Project on behalf of the Los Angeles County Metropolitan Transportation Authority.
About HNTB
HNTB Corporation is an employee-owned infrastructure firm serving public and private owners and contractors. With more than a century of service in the United States, HNTB understands the life cycle of infrastructure and addresses clients' most complex technical, financial and operational challenges. Professionals nationwide deliver a full range of infrastructure-related services, including award-winning planning, design, program management and construction management. For more information, visit http://www.hntb.com.