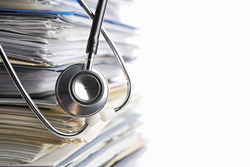 The study revealed mostly good news.
Temple, Texas (PRWEB) May 03, 2016
The study compared the last three months under ICD-9 (July-August 2015) with the first three months under ICD-10 (October-December 2015). The goal of the study was to allow hospitals and providers to view their performance as compared the the experiences of a larger group.
AppRev President and CEO, Seth Avery, shared the results of the study at the Healthcare Financial Management Association Region 5 Dixie Institute in Nashville on March 21, 2016. Using a simple set of metrics developed in collaboration with several of their hospital customers, AppRev incorporated data from approximately 40 hospitals to compile the results.
After reviewing all data and speaking with participating hospitals, AppRev determined that the final impact of the ICD-10 transition is not fully known at this time. The comprehensive overview of the results and data can be found on AppRev's website at http://apprev.com/icd10-study.php.
"We found that the results of this study revealed mostly good news. The impact of the transition has not overall adversely affected hospitals, with the exception of medical necessity denials. These were up across the board for a variety of reasons, as outlined in the study results," said Mr. Avery.
Due to the variety of factors affecting data in the coming year, AppRev will continue this study throughout 2016 and report quarterly results. Doing so will provide a more comprehensive scope of the impact of ICD-10. AppRev would like to increase the sample size and potentially even report by state and hospital size. A separate study focused on physician data is also a possibility, with an interest in comparing the physician's experience with that of the hospital's.
Any interested hospitals or providers are welcome to participate in the study through a simple survey. A limited amount of information is required of participants, and all responses will be kept confidential. The quarterly analysis will continue to be made available to all participants and shared through a number of HFMA presentations, webinars, on AppRev's website and upon request.
http://www.apprev.com
AppRev is a privately held Healthcare Business Intelligence company based in Temple, Texas, providing services and technology to more than 80 hospitals throughout the United States and Bermuda. AppRev delivers results through services and technology that allow hospitals and clinics to improve revenue cycle performance. The company's solutions are provided via web delivered Service Supported Software™ and include Charge Accuracy, Denials Intelligence, ICD-10 Metrics, Pricing Analytics, Pricing Transparency using the Market Advantage Price Lookup Tool, CDM and DSH services. All AppRev solutions employ ongoing measurement of revenue cycle improvements and can be tailored to meet customer-specific requirements.