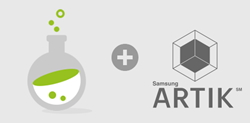 "With the expanded integration between Netvibes and Samsung ARTIK Cloud, consumers will have more power to program and control their digital lives"
SAMSUNG DEVELOPERS CONFERENCE, SAN FRANCISCO, CA (PRWEB) April 27, 2016
Netvibes, the leader in Dashboard Intelligence, today announced its support for SAMSUNG ARTIK Cloud to extend the programmable Internet of Things to more devices, consumers and businesses. With the integration of SAMSUNG ARTIK Cloud into Netvibes' Dashboard of Things, users can control and automate a wide variety of smart devices and apps from the Netvibes dashboard, including any SAMSUNG ARTIK-connected device.
Netvibes Potions make it simple for anyone to control complex interactions between apps, data and smart devices. You pick the Trigger(s) and Action(s), and your custom Potion makes the magic happen: e.g., If A or B triggers happen, then do X and Y actions; otherwise do Z. Consumers can automate their homes and devices (e.g., Turn on the lights at sunset), while enterprises can automate their business logic (e.g., If my brand falls out of the top 10 most-mentioned Wearables brands, then send an email to the marketing team and schedule a meeting to discuss.)
Visit Netvibes at the Samsung Developers Conference
The Netvibes team will demonstrate Potions at the Samsung Developers Conference, April 27-28, 2016 in San Francisco. Stop by the Netvibes booth to see Potions in action and learn how anyone can take control of the Internet of Things.
Demo 1: Running in the Rain — A runner wants to receive a text message alert when rain is expected during his run. He connects his Runkeeper app to the Netvibes dashboard using SAMSUNG ARTIK Cloud.
Potion: When I start a run on Runkeeper AND the weather forecast predicts rain today, then send me a text message.
Demo 2: Pulse recording — A runner is training for the marathon and wants to record her heart metrics over time. She connects her wearable device, an iHealth oximeter, to Netvibes via SAMSUNG ARTIK Cloud and creates a Potion to automatically log the recordings.
Potion: When I take a measurement with my iHealth oximeter, then record my blood oxygen reading and pulse rate in a Google spreadsheet.
The runner can also use SAMSUNG ARTIK Cloud to connect her other wearables, such as Fitbit, Jawbone, or Misfit, to the Netvibes dashboard to automatically log her running distances. She can then create Potions that make use of the data to keep her informed of her training progress. For example, she wants to be alerted whenever she runs 10k in under an hour.
Potion: When I run 10k in less than one hour, send me a congratulatory email.
Going a step further, the runner wants to track trends in her running over time. With Netvibes' unique Trend-Tracing Triggers, Potions can support complex data triggers, using historical data and predictive analytics.
Potion: When I run 10k for five days in a row, post my achievement on Facebook and Twitter.
By bringing together SAMSUNG ARTIK Cloud as the data collection layer and Netvibes as the automation layer, Netvibes and Samsung are empowering users to do more with the Internet of Things. In addition to the iHealth oximeter, Runkeeper app, and Fitbit wearable, users will be able to control any SAMSUNG ARTIK-linked device or app through Netvibes.
"Netvibes is proud to collaborate with SAMSUNG ARTIK Cloud to connect even more devices to the Dashboard of Things. Together we are extending IoT automation and programmability to more business use cases and consumer applications," said Freddy Mini, CEO of Netvibes.
"With the expanded integration between Netvibes and Samsung ARTIK Cloud, consumers will have more power to program and control their digital lives," said Curtis Sasaki, vice president of Ecosystems, Samsung Electronics. "ARTIK Cloud's open platform with multiple APIs provides Netvibes a fast and easy way to connect their dashboard to many new objects in the Internet of Things."
Availability
Netvibes Potions are available free to all Netvibes dashboard users. To learn more, please visit netvibes.com.
About Netvibes
Netvibes (now part of Dassault Systèmes) is the leading provider of Decision-Making Dashboards for Fortune 500 brands, agencies and enterprises worldwide. For consumers, Netvibes Basic is the most awarded dashboard engine that helps millions of people around the world instantly dashboard everything that matters most, including smart devices in the Internet of Things. For agencies, Netvibes Agency Wizardry creates custom social dashboards in one click to prove social ROI for any campaign, automate reporting, and deliver faster insights to clients. For enterprises, Netvibes for Enterprise connects virtually all internal systems plus the social web together on a secure, real-time dashboard intelligence portal to drive faster decisions, based on data.
http://www.netvibes.com